Published: Wed, March 21, 2012 @ 12:09 a.m.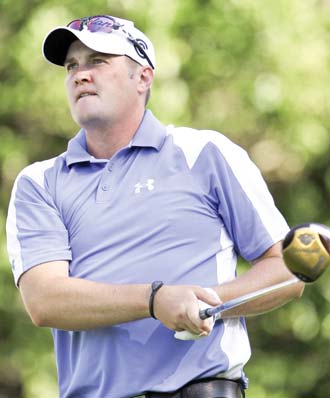 Photo
Jason Kokrak tees off on the ninth hole during the first round of the Transitions golf tournament in Palm Harbor, Fla.
Maybe it was coincidental that the Transitions Championship in Palm Harbor Fla. last weekend was also a juncture for a switch.
That's when PGA rookie Jason Kokrak did not make the cut, but, instead, he made a caddie change.
After finishing in the money in his three previous stops: AT&T National at Pebble Beach, the Northern Trust at Riviera in Pacific Palisades, Calif. and the Honda Classic in Palm Beach Gardens, Fla., Kokrak needed a change.
So the Warren JFK graduate brought John Diana on board for the time being.
Diana, who remains the pro at Trumbull Country Club, will be with his former protege this week in Orlando, where the Arnold Palmer Invitational will be held at the Bay Hill Club & Lodge.
Diana replaces Steve Kay, who was Kokrak's caddie for nine PGA tournaments, starting with the Sony Open, Jan. 12-15.
The switch wasn't so much a cleansing as it was a re-connection.
At the Transitions, Kokrak shot a pair of 3-over 74s, so it was two rounds and out.
"I just hit bad — everything," he said. "I was just struggling with ball-striking and most parts of my game, so I really didn't have it. I didn't play well.
Although he said he made a few more putts than he had the last few tournaments, Kokrak is working on his entire game.
"I'm trying to piece it all together is what I'm trying to do out here."
Switching gears with caddies wasn't spontaneous.
"It's something I needed to have happen," Kokrak said. "I was thinking about it beforehand, so it wasn't just spur-of-the-moment.
While back in Warren for the funeral of an uncle recently, Kokrak said he discussed including Diana in his career at this time.
"I talked to J.D. about it when I was home for a week," Kokrak said. "I'm trying to work on a few things and it helps to have a familiar face to get a straightforward answer you can rely upon."
Diana's perspective may be what Kokrak needs most.
"J.D. worked with me and he's seen me play a lot of golf. It helps to know if something's out of whack. He'll be able to tell me if I'm doing something differently than I used to."
Kokrak said he's not in search of big changes.
"I have decent stats, but nothing special. I've had one good tournament, nothing great," he said of his AT&T ninth-place tie finish. "So I want to try something a little different. I'm just fractionally off. There's not anything wrong with my swing, it's just minor things that need tweaking."
The Warren JFK graduate is 98th in the PGA Tour's FedExCup standings through March 18 with $217,528 in earnings.
Kokrak's week at Bay Hill began with a pro-am on Monday.
"I had a good, hard practice," he said of his first time on the course. "I had no expectations. It's a tough little course; the rough is up and the course is in good shape and I'm looking forward to a great tournament. It's one of the great ones of the year, so I'm happy to be here."
Of his caddie change, Kokrak said: "It could work out worse; it could work out better. I sometimes have a little bit different results on things with a different person on the bag. It's nice to get J.D. on the bag this week. He's a good buddy of mine, so we'll have some fun on the course."