As backup singer, Hubbard native gets upfront view of 'American Idol'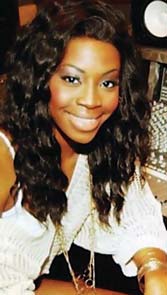 Photo
By GUY D'ASTOLFO
Shaneka L. Brown has been told many times that she should be on "American Idol."
And as of this season, she is — but not as a contestant.
Brown, a 2002 Hubbard High School graduate, is one of the three backup singers on the popular Fox competition show this season. The trio assists contestants in their performances.
"It's funny because everyone has always said to me, 'You need to go on 'American Idol,'" said Brown, who admits she has never actually tried out to be on the show.
But she did audition for the backup-singer opening and was given the job in January.
Season 11 of "Idol" began Jan. 22.
Brown grew up in Hubbard and got her start by singing in area churches. Her strong and versatile voice helped her get the "Idol" job.
"They were definitively selective in picking background vocalists for this season," the 28-year-old told The Vindicator in a phone interview from Los Angeles. "You have to be able to sing every genre of music, from Stevie Wonder to Billy Joel."
She said each show is preceded by a daylong session in which the background singers work with each contestant.
"They have suggestions for us on want they want to do," said Brown. "It's pretty cool, intense and fun."
During the show, the background singers can be seen in silhouette behind the contestant, but the camera sometimes lingers directly on them.
Brown has music in her genes. She is the daughter of the Rev. Gary L. Brown of Erie, Pa., and Helen Owen, who both sing and play organ in local church ministries.
Even as a small child, she would amaze adults with her voice. "At 10, 11, 12 years old, she was hitting notes that people in that age range couldn't hit," said Owen, who lives in Howland.
When she learned that her daughter got the "Idol" job, Owen said she was extremely excited but not totally surprised because she knew of Shaneka's talent, drive and passion.
"It's all she ever wanted to do," said Owen. "When you talk about a huge show like that, we were overwhelmed and grateful to God, another blessing from God, another door open for her to go through with her talents and her gift."
Brown never received formal training as a singer but cultivated her voice through her own study. As a gospel singer, she already has traveled to eight or nine countries in singing ministries, said Owen.
It was in those massive arenas in Europe where she performed in front of thousands that she really learned her craft as a performer.
"That was my best teacher," said Brown, adding that's when she knew she was a natural born singer.
After her stint with "Idol" ends when the season wraps up in late May, Brown will devote more time to her solo career as a singer. She is working on an album but has not yet set a release date.
"I haven't had time to focus on it because of everything else I have going on," she said.
Brown also works with other artists as a backup singer, using the stage name Neka L B.
She can be heard on actor-R&B singer Tyrese Gibson's 2011 album "Open Invitation." A song Brown wrote and sings on, titled "What Took You So Long," appears on the digital version of the album.