Aldridge 1st team, Rogers third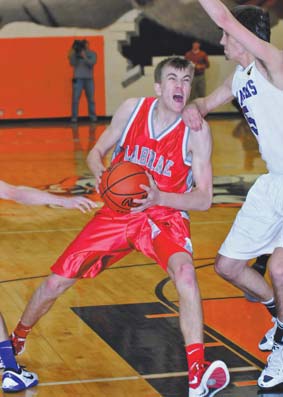 Photo
LaBrae's Peyton Aldridge, left, drives to the basket against Berkshire in a Division III tournament game. Aldridge was named first team All-Ohio by the Associated Press on Tuesday.
Staff report
LaBrae High's Peyton Aldridge, who led the Vikings to a 20-0 record and the championship of the All-American Conference National Division, was selected to the All-Ohio first team in Division III boys basketball by The Associated Press on Tuesday.
Aldridge, a 6-foot-7 sophomore, averaged 15 points, 9.5 rebounds and 3.4 assists per game for the Vikings, who advancd to the district semifinals before losing to Berkshire.
He was one of 17 area players selected to the all-state team in Division III and IV.
Ron Rogers of Springfield was named third team in Div. III. A 6-2 senior, Rogers averaged 17.6 points, 5.9 rebounds and 1.8 assists per game as the Tigers finished 18-2 and won the Inter Tri-County League Tier One championship. Springfield went on to win the district championship at Salem.
Ryan Strollo of Ursuline, Jaylen Mann of Liberty, Cody Dillon of Newton Falls and Brandon Pluchinsky of South Range were named Special Mention.
Strollo, a 6-2 junior, averaged 15.5 points and 5 rebounds per game for the Fighting Irish. Mann, a 6-4 senior, averaged 19.5 points, 11.8 rebounds and 2.7 assists per game for the Leopard.
Dillon, a 6-4 senior, averaged 19.5 points, 8.4 rebounds and 3.4 assists per game for the Tigers. Pluchinsky, a 6-3 senior, averaged 14.4 points and 3.1 assists per game for the Raiders.
Four players were named Honorable Mention: Preston Sirochman and Jeremy Quinlan of Brookfield, Matt Szorady of LaBrae and Dan Good of South Range.
In Div. IV, four players were named Special Mention. Cole O'Dell (6-5 senior) of Mathews averaged 19 points per game; Matt Spitler (6-0 senior) of Maplewood, who averaged 24.7 points per game; Stephen Politano (6-0 junior) averaged 19 points per gane, and DeVaughn Adams (5-6 senior), who averaged 14.8 points per game.
Six other players were selected Honorable Mention: Dean Donatelli of Lowellville, Cody Stokes of Leetonia, Nate Scott of Wellsville, Zach Youngs of Mathews, Chris Whitman of Bloomfield and Kenny Bolyard of Badger.
The Associated Press' Mr. Basketball Award will be announced today.