Former music mecca Ponderosa Park is on the auction block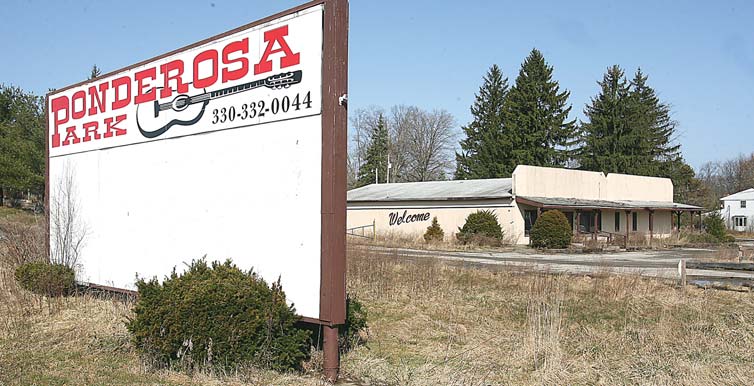 Photo
The main gate to the former Ponderosa Park in Goshen Township stands as a reminder of the park's glory days in the 1980s and 1990s when country superstars would entertain regularly at the park's pavilion. The pavilion and much of the park's property today are dilapidated. The property will be up for sale at an auction 1:30 p.m. next Tuesday at the Mahoning County Courthouse.
GOSHEN TOWNSHIP
A long neglected former country-music mecca that drew top national talent to the Mahoning Valley may get a new lease on life through foreclosure and a sheriff's sale.
During the 1990s, Ponderosa Park drew legendary performers, such as Willie Nelson, Merle Haggard, Faith Hill, Waylon Jennings, Johnny Cash and June Carter Cash, for its summer concert lineup.
In an attempt to recover $533,852 in unpaid real estate taxes, interest and penalties, most of the Goshen Township park will be auctioned in as-is condition at a sheriff's sale in the Mahoning County Courthouse basement at 1:30 p.m. March 27.
"Hopefully, someone will purchase it and bring it back into some sort of a park-type business so it brings a good tax base back to the township and the schools," said Bob McCracken, chairman of the Goshen Township trustees.
"It has a lot of potential. It just needs a tremendous amount of cleanup," McCracken said of the park, which is about five miles north of Salem on state Route 45.
Possible uses of the land are for a campground, farming, oil and gas drilling and the return of musical performances, he said.
Although a new owner would have to comply with county building and health department regulations, the township has no zoning ordinance, so there would be no restrictions on the land's use at the township level, McCracken said.
"We've had several different interested parties looking at the property," said McCracken, who has given tours to five interested parties.
"I'd like to see an interested party take over the park and restore it to productive use," said County Treasurer Daniel R. Yemma. "It would be great to see it used as a campground. It was successful at one time," he added.
The 45.45-acre front section of the park at 9362 state Route 45, which contains the dilapidated concert pavilion that seated up to 3,800 people, the Red Garter Saloon and a building containing a guitar-shaped swimming pool, has a minimum bid of $150,000. The unpaid tax bill for this section is $436,432.
A 68.37-acre section at 11471 W. Western Reserve Road, which has an occupied caretaker's house, has a minimum bid of $96,000. The unpaid tax bill for this section is $97,420.
"I hope they sell it to someone who wants to put that property to productive use and that the taxes are paid," said Linette Stratford, chief of the civil division of the county prosecutor's office.
Because of the overall decline in real estate values in recent years, land is "probably a better investment now than it was back in '07 or '06," said Gary J. Rosati, the county's foreclosure lawyer. "It has only one way to go at this point, and that's up," he said of the value of land.
"I hope that somebody puts in some kind of business there, and they start paying the taxes," Rosati said.
"The good people of Goshen Township deserve to have the tax base that this property represents paid to them," for the benefit of the West Branch School District and the township, he said.
The 38.5 acre campground section, with nearly 1,000 owners holding small shares, all of whom must be notified, will be sold at a sheriff's sale at a later date, as will a 2-acre plot with a house on it along state Route 45, Rosati said.
Under state law, the minimum bid in a sheriff's sale is two-thirds of the appraised value of the real estate being sold.
If a property fails to attract the minimum bid in a sheriff's sale, it will be auctioned in a second sheriff's sale, at which the same two-thirds minimum standard would apply, Stratford said.
If it doesn't sell in the second sheriff's sale, it would be forfeited to the state and sold in a county auditor's auction, in which there would be no minimum bid, Stratford said.
The condition of Ponderosa Park buildings is generally "very poor," Rosati said. "They've been stripped of anything of value," he added.
Rosati said he thinks a new owner likely would find it easier to demolish, rather than restore, most of the structures at the park because of their dilapidated condition, but he said he believes the cement and tile pool house could be restored.
Just before the park closed in June 2010, Bruce Howell, who managed the park, which is owned by the California-based Ponderosa Park Resort Inc., said the costs of state-directed improvements to the park's wastewater treatment plant were prohibitive.
Citing a safety hazard due to erosion, the Ohio Department of Natural Resources breached a 21-foot-high dam along Meander Creek in the park and drained the lake behind it in July 2010.
When the park closed, the Salem Historical Society took possession of wooden backstage wall panels signed by the legendary entertainers who performed at the park.
After the park closed, logging occurred on the premises, Rosati said.
A 300-year-old tree fell several years ago, knocking down part of the concert pavilion roof, McCracken said.
Because of the complexity of the foreclosure, especially in the campground, the county is using Rosati as outside legal counsel, said Elizabeth Phillips, an assistant county prosecutor.
The county's agreement with the Zuzulo law firm, in which Rosati is an associate, calls for the county to pay legal fees at $175 per hour and paralegal fees at $75 per hour from the sheriff's sale proceeds, with the remainder going toward the unpaid real estate taxes, Stratford said.
If there's any money left over after the taxes are paid, it would go to the holders of liens against the park, Stratford said.
There are millions of dollars worth of liens on the park, including IRS, mortgage and mechanics liens, Rosati said.
Rosati said he would be spending a "significant" number of hours on the foreclosure, but he couldn't yet provide a total.
"We couldn't do it entirely in house. It was impossible. I'd have to hire a staff of lawyers and title searchers to do only Ponderosa Park," Stratford said, explaining the hiring of outside counsel.
McCracken urged interested parties to call him at (330) 207-8053 to arrange a tour of the park.
Rosati urged those who believe they may have an ownership interest in the campground to call him at (330) 652-1609.