St. Patrick's Day 2012: Top o' the weekend to you!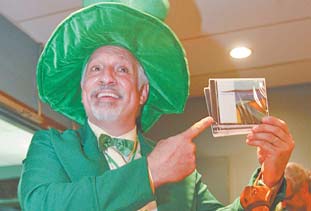 Photo
Chuck Simon of Salem, an actor originally from Youngstown, dresses up and shows off CDs for purchase from the band Brady's Leap. The group played a set Thursday at the Kravitz Deli St. Patrick's Kick Off Celebration in Liberty.
By GUY D'ASTOLFO
dastolfo@vindy.com
We have the green light.
Nothing can stop the party on St. Patrick's Day, but this year we're getting more than a wee bit lucky.
Not only does the holiday fall on a Saturday, but the forecast calls for partly sunny skies with a high in the upper 70s and a low in the 50s.
Now, Mahoning Valley lads and lassies will party on this day under any conditions, but getting St. Pat's on a springlike weekend is like finding a pot of gold.
So bring on the Irish beer, beef and ballads. The bad puns already have begun.
Expect massive all-day parties at places such as O'Donold's in Austintown, which drew more than 60,000 people last year and calls itself the largest St. Patrick's Day party in Ohio. O'Donold's will have a giant tent set up in the parking lot of Austintown Plaza and will feature live music, step dancers, bagpipers and Irish food and drink all day.
For Ralph Rich of Hubbard, Austintown will be the first stop of his day. "I'll probably hit up O'Donold's and Mojo's during the day and then end up in downtown Youngstown later," he said.
Rich said one of the best things about St. Patrick's Day is it gets people out to the bars — especially those who don't usually go out. "I'll run into people I haven't seen in a while," said Rich. "It's definitely the biggest drinking day of the year."
Other major parties — some starting before dawn with kegs and eggs — will be at McMenamy's and Quinlan's in Niles, Youngstown Sports Grille in Boardman, Quaker Steak and Lube in Sharon, Pa., and Lanigan's in New Castle, Pa. Kravitz Deli in Liberty and Poland is having its Corned Beef Fest Saturday, and smaller celebrations will take place at dozens of other bars and restaurants.
The St. Paddy's Day Dash in Downtown Youngstown also will return for its fourth year, with 17 bars and restaurants participating: B&O Station, Boxcar Lounge, The Royal Oaks, The MVR, University Pizza, Inner Circle, Cafe Cimmento, Buffalo Wild Wings, The Old Precinct, Cedars, The Draught House, Imbibe, The Lemon Grove, V2, 9INE Lounge, eXclusive and the Youngstown Maennerchor.
About 1,200 people registered for the Dash last year, said Lyndsey Hughes, the city's downtown events coordinator. She expects that number to grow this year.
"This is the first year it is being held on St. Patrick's Day," said Hughes. "All the restaurants and bars have really done a great job with specials and entertainment."
Registration is free and begins at noon at B&O Station. Dashers are asked to bring a donation of nonperishable food, clothing or money for Rescue Mission of Mahoning Valley.
Dashers will get a wrist band that entitles them to free rides on a trolley that will loop around all the locations until 1 a.m., plus food and drink specials.
Dave Szakacs of Liberty has done the St. Paddy's Day Dash in the past and said he'll probably do it again. "I think a lot of people will come out for the Dash," said Szakacs, who said he'll probably start his partying at Shaker's in Liberty.
A new focal point in the downtown Youngstown party scene will be Shamrock Around the Block, which will be centered at the new V2 (that's pronounced V-squared) Wine Bar and Trattoria at West Federal and Phelps streets.
V2, which opened less than a year ago, got a city permit to close the block of North Phelps Street between West Federal and Commerce streets, where it will erect an 80-foot tent with a stage inside. Music will begin at 8 a.m.
Nick Rose, manager of V2, said the idea came up a few months ago at a managers meeting.
"[Owner] Dom Gatta suggested closing the street for St. Patty's Day, and we said, 'Yeah, why not,'" said Rose. "There's no reason why we shouldn't. I said, 'This will be the biggest party you've ever seen.'"
Despite its late start, V2 managed to put together a musical lineup with some of the Valley's most-popular acts, including Rudy and the Professionals, Geo C and Tha Storm and Hoss and the Juggernauts. WNCD-FM's Fast Freddie also will appear.
V2 also will run a shuttle bus to its sister location, Vernon's Cafe in Niles, all day.
So the stage is set for a lot of partying Saturday.
But is everyone on board?
Chris Lettera of Liberty, who is president of the Student Literary Arts Association at Youngstown State University, is taking a wry approach to the day.
"I construct my life on irony," said Lettera, with a smile. "I go out almost every night of the year, so I'll probably just stay home on St. Patrick's Day."