Published: Fri, March 16, 2012 @ 12:00 a.m.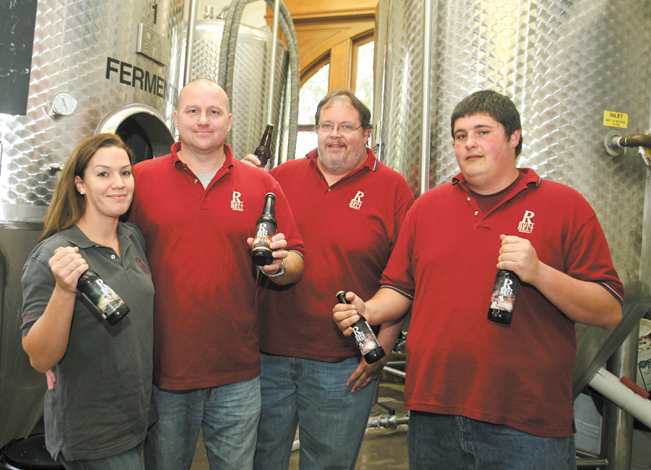 Photo
Jillian and Ken Blair, left, Brian S. Koniowsky, brewmaster, and Brian J. Koniowsky make up the small team at Rust Belt Brewing in Youngstown.
By BRIAN FRY
When beer lovers think of the great brewing traditions from around the world, several countries come to mind: Germany, Belgium, England, and The United States of America (George Washington brewed his own), and of course Ireland.
As St. Patrick's Day approaches, we turn our attention to the great beers brewed in Ireland and some brewed locally utilizing the Irish styles and techniques.
Youngstown-based Rust Belt Brewing offers its Rusted River Irish Red Ale to local beer lovers on a year-round basis. The ale is amber/brown in color, giving a hint of the malt-caramel flavors to follow. Notes of roasted nuts, toffee and a hint of butterscotch reach the nose offering a pleasant and balanced aroma profile.
The predominant flavor is caramel from the malt, which is consistent with the Irish tradition for brewing red ales. Lighter flavors of baked fruit and raisins mingle with the malty goodness making the beer easy to drink and smooth. Rust Belt Brewing is undergoing an expansion of their operation in downtown Youngstown at the former B&O Railroad Station, so you can enjoy this delicious beer and support our local economy at the same time.
Our second offering is the Conway's Irish Ale from Great Lakes Brewing Company. The Cleveland-based brewery offers this seasonal ale each year around St. Patrick's Day.
The beer is an homage to the Great Lakes' owner's grandfather, Patrick Conway, who served as a Cleveland police officer for 25 years. The beer is mostly amber in color and offers great aromas of toast from the Harrington 2 Row Malt and notes of citrus fruit emanating from the use of Northern Brewer Hops. This Irish Ale checks in a little higher in alcohol than most at 6.5 percent, although you can't taste it in the rich, balanced finish.
Great Lakes Brewing changes the flavor profile of this ale slightly each year, and this version is a little bolder with slightly more hops in the flavor.
No St. Patrick's Day celebration would be complete without a look at the portfolio of beers offered by the Guinness Brewery.
Guinness offers substantially more than the traditional draft stout everyone enjoys this time of year. Their beer lineup includes Harp Lager for those who like something lighter, Smithwick's Red Ale and the new Guinness Black Lager. This beer offers much of the same flavor profile as the original Guinness stout, but is lighter-bodied and slightly easier to drink. The Black Lager can appeal to those who want to try something darker without being weighed down.
Finally, there is a great Irish brewery many of you may not have heard of: Porterhouse Brewing of Dublin.
Porterhouse makes some very unique (and more expensive) Irish beers including their Red, Wrasslers XXX Stout and the very intriguing Oyster Stout, which infuses fresh oysters into the conditioning tanks. These beers are sure to satisfy even the most discerning craft and micro beer enthusiast at your St. Patrick's Day party!