---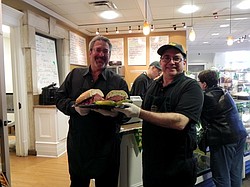 Photo
Neighbors | Sarah Foor .The days leading up to St. Patrick's Day are some of the busiest for Kravitz Deli, and during the month of March, they offer a corned beef challenge for customers that includes a pound of meat on a loaf of rye bread. Marc Rockwell (left), operations manager, and deli owner Jack Kravitz (right) showed off a corned beef challenge sandwich ordered during the March 10 Family Day at the Poland library Kravitz location.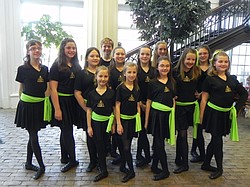 Photo
Neighbors | Sarah Foor .The Irish step dancers from the Burke School of Irish Dance in Youngstown gathered for a group photo before entertaining crowds with their fancy footwork at the Poland library on March 10.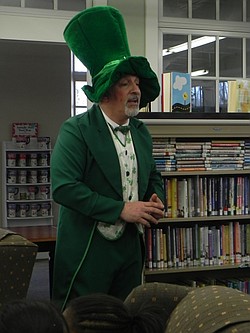 Photo
Neighbors | Sarah Foor .Mr. Leprechaun visited the Poland Library festivities during the March 10 Family Day. Mr. Leprechaun told stories and sang traditional Irish tunes, like "When Irish Eyes are Smiling."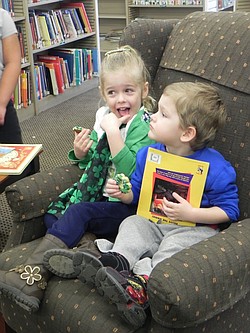 Photo
Neighbors | Sarah Foor .Audrey (left) and Christopher Solvesky were all smiles as they ate cookies and listened to St. Patrick's Day stories at the Poland Library and Kravitz Deli's March 10 Family Day.
By SARAH FOOR
Kravitz Delicatessen, in their locations in Liberty and the Poland library, celebrated St. Patrick's Day with music and food during their Corned Beef Fest on March 15.
To offer kids the chance to enjoy the holiday of all things Irish, officials at the Poland deli teamed up with the Poland library and the Friends of the Library for a Family Day on March 10.
The event was the second time the deli and library officials hosted the family-friendly celebration for St. Patrick's Day.
"Being part of the Poland library is a real treat and we've formed a great synergy with the library where we all work to support each other," said deli owner Jack Kravitz during the event.
The ground floor of the library, which features the deli as well as the Friends of the Library bookstore, was home base for Family Day activities on March 10.
Young guests enjoyed drawing leprechauns on butcher paper, munching on free shamrock cookies and listening to stories from Mr. and Mrs. Leprechaun.
Parents participated in a pickle eating contest and enjoyed reduced price sandwich specials at the deli, including a Friends of the Library coupon for 50 cents off a "Reuben McMillan" sandwich.
"Reuben McMillan was integral in the founding of our first library location in Youngstown, so it was only fitting to give a little wink to our namesake during the celebration," explained Deborah Liptak, developing director for the Mahoning County library system.
Dancers from the Burke School of Irish dance visited the event and made the Kravitz Deli seating area their stage, sharing their dancing with a supportive crowd.
"The Poland community has been so supportive of us in this location. We're glad to offer events like this as our form of a thank you to the community," Kravitz said.