Cougar defense stifles Wildcats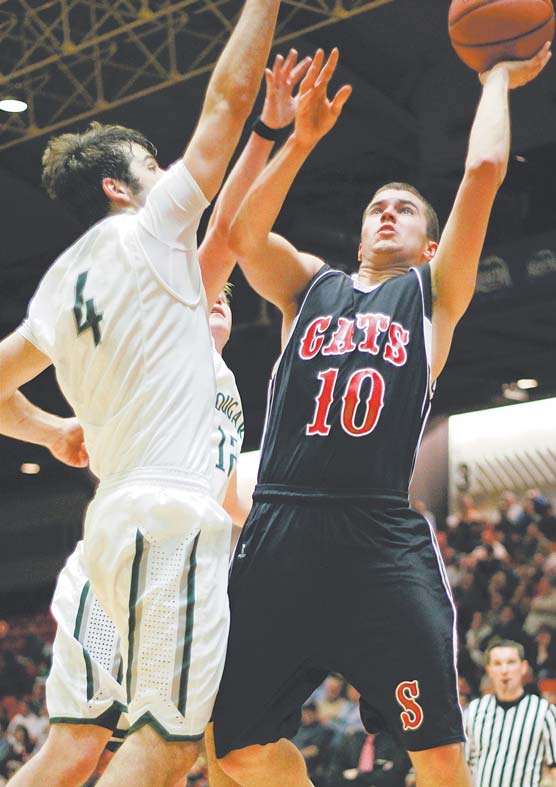 ---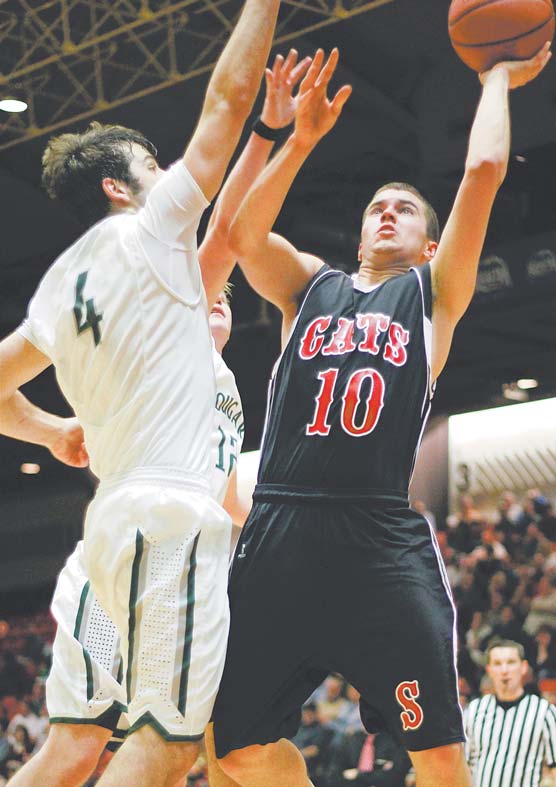 Photo
Jordan Sapp (10) of Struthers shoots over Mentor Lake Catholic defenders Mark Baniewciz (4) and Mike Whalen (12) during the Division II regional semifinal on Thursday at Canton Civic Center. Sapp scored a game-high 26 points for the Wildcats, who fell to the Cougars, 68-39.
GAME-PLANNED
Cougar defense stifles Wildcats
By Matthew PEASLEE
CANTON
Mentor Lake Catholic easily figured out the game plan for its Division II regional semifinal against Struthers.
The Wildcats knew it, too. And when they got their first possession, everyone at the Canton Civic Center could see what the Cougars were trying to do.
Stop Jake Jacubec.
The Struthers guard was defended, at all times, by two and even three players and was limited to just two points in Lake Catholic's 68-39 victory.
"We were hoping to make life tough for him," Cougars coach Mark Chicone said. "We didn't want him to get space, get loose and get comfortable. We had to always have a guy on him to deny him as much as we could.
"We wanted to make him work to get the ball and be in the help when he did get it."
The tight defense on Jacubec contributed to an early 11-3 hole for Struthers six minutes into the game and it snowballed from there.
"They came out to get after us," Struthers coach Joe Savko said. "They pressured us all over the place."
Senior Jordan Sapp had a game-high 26 points for the Wildcats; he scored all 13 of Struthers' points in the third quarter.
"I knew Jake was heavily guarded the whole game and shots weren't falling so I had to step up and attack the hoop," Sapp said. "I tried my best and gave it my all."
Struthers trailed by 18 points before Sapp trimmed it to 15 with a three-point play at the 2:35 mark of the third. The Wildcats (19-5) were down 41-30 entering the fourth quarter but two foul shots by Sapp in the first minute gave them new life.
"I was trying to get my teammates fired up," said Sapp, who added five rebounds and four steals. "I really wanted to get back in it."
Right then and there was when Chicone's plan worked to perfection.
"You hope that by forcing a guy like Jake so hard that maybe when it does get to within 10 points he didn't have as much energy as he would've had otherwise," Chicone said. "A guy like that is capable of getting his team back."
A 15-2 run for the next four minutes secured the Cougars' victory.
"It's regional basketball," Savko said. "It's not the district, it's not the sectional, it's not the regular season. There's a lot of physicality out there."
Struthers shot just 14-of-55 from the field.
"We didn't make shots that we usually make," Savko said. "You practice all week for it, you're making shots in practice and you've made them all year. But you come here and they just don't go in. It takes the wind out of you."
Junior Mark Baniewicz led Lake Catholic (20-3) with 23 points and grabbed seven rebounds, while Mike Whalen scored 13. The Cougars held a rebound advantage of 40-19.