City condemns parking deck; owner plans to sue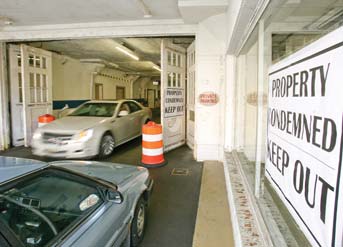 Photo
Youngstown condemned the A-1 Parking garage on West Boardman Street downtown Thursday because of structural problems.
YOUNGSTOWN
The city condemned a downtown parking deck because structural problems identified a year ago haven't been addressed.
Yeshohua Weider of Brooklyn, N.Y., who owns A-1 Parking at 23 W. Boardman St., said Thursday he was in the final stages of hiring a contractor to make the repairs at a cost of $200,000 to $400,000. But because of how he's been treated by city officials, Weider said he won't make the repairs and will instead fight the city in court.
"They act like they're in Cuba; the Cuban government does whatever they want," Weider told The Vindicator during a telephone interview. "There are no laws in Youngstown. They are doing whatever they want."
Mayor Charles Sammarone acknowledged that city building officials should have followed up on the problems with the deck months ago, but it was Weider's responsibility to make the repairs.
Because the deck poses an "imminent danger," said Dana Lantz, the city's first assistant law director/housing prosecutor, the city condemned it Thursday.
"We have to do something; even their own engineer says it's structurally unsafe," Sammarone said.
With Brenda Williams, the city's chief building official, out of work for extended periods of time with health issues over the past year or so, some of her work fell through the cracks, said Sammarone, Lantz and Charles Shasho, deputy director of the city's public works department.
The city first contacted Weider about an inspection of the structure in November 2010 after portions of the parking building's exterior fell onto the street.
A month later, Weider hired i.a. lewin, p.e. and associates of Cleveland to inspect the 200-parking-space, 81,305-square-foot, six-story building.
The report was completed March 30, 2011, and given to the city Aug. 24 of that year, Shasho said. The city informed Weider that the report was "adequate, and to come in for building permits and make the improvements," Shasho said.
Weider never responded.
"It's very expensive; I'm trying my best" to find the money for the repairs, Weider said.
Weider bought the building in 2009 for $200,000 and doesn't own any other property in the area.
Williams discovered Tuesday that the work was never done, inspected the garage and condemned it because of structural deficiencies.
Weider can appeal the decision to the city's property-maintenance appeals board.
Weider said Williams called "screaming at me that I didn't get a report to the city when the report was there for months. They want us to do the work right away. There's nothing in the report that says it's not structurally sound."
But the year-old report's summary states: "There are a number of critical structural issues to be addressed immediately."
Before hearing from Williams earlier this week, Weider said he was finalizing a contract with AO Construction and Restoration, a Boardman company, to do the work.
"I'm not thinking now of repairs," Weider said. "I'm thinking of a vicious city fighting with a simple, honest soul. My only focus is to fight them back in court. I have no choice."
Angel Ortiz, AO's owner, was looking at the deck Thursday.
The engineer report of the structure, built in 1924, listed 10 categories in which defects were found and repairs recommended.
Problems that were to be resolved six months after the March 30, 2011, report include:
Beams over various ramp areas on multiple levels have lost their concrete cover over the steel reinforcing bars because of moisture and road salt. The beams need to be restructured using a grout mix.
Three columns are splitting because of reinforced steel being corroded. The splits adversely impact the column's strength, "a critical structural component," and need to be repaired and wrapped with a carbon-fiber product.
Concrete beams above windows on the east side of the building have deteriorated causing loose concrete and exposed corroded reinforcing steel. That's damaged window frames, causing some glass panes to break.
Long-term issues include patching a 3-inch-deep hole on the fifth floor, replacing rusted catch basins and making improvements to the walls, columns and beams.