South Side woman threatened by men won't return home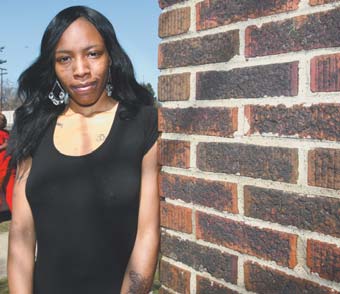 Photo
Damona Walker says she won't return to her South Side Youngstown home until police catch the two men who pulled a gun on her and her children.
YOUNGSTOWN
A 25-year-old South Side woman has vowed not to return to her home until police arrest the two men who pulled a gun on her in front of her home and children this week.
Damona Walker, 25, of the South Side, was standing on Ridge Avenue watching her kids play and talking to a friend on one of the first warm days of the year earlier this week when a black Pontiac Grand AM sped past her and stopped. She said she raised her arms and asked the driver if he needed help of if there was a problem and received a response she did not expect.
According to Walker, the Grand Am, containing two white males, went into reverse, backing up to where she was standing. The driver, she said, pulled out a handgun and pointed it directly at her. The incident happened in front of Walker's children, ages 8, 7 and 2.
"I was shocked. I am standing near my car, just shocked. I couldn't even tell my kids to run in the house fast enough. I just told them to run into the neighbor's house," she said.
The men in the car took off driving toward Market Street. The male friend Walker was standing with, David Lynch, got into his own car and gave chase, following the men to a nearby Dollar General store.
Reports say Lynch was able to obtain a license plate number from the car the men were driving and the store provided officers with video footage of the men entering the store. Still, Walker is afraid to return home until the men are caught.
"I haven't been home because they saw my car. Until they catch them, I will not be there," she said. "I just really can't wait to find out who these guys are. I just want to know why."
Walker said she does not know of anyone who would want to hurt her or her family. She said the situation has left her wanting to leave the South Side neighborhood where she said she once did feel safe.
"I don't know these guys and they don't know me. There is nobody who would want to do anything to me. I don't understand it. I think they were high on something," she said. "I have been living there since 2010 and I felt safe there; now I just want to move."