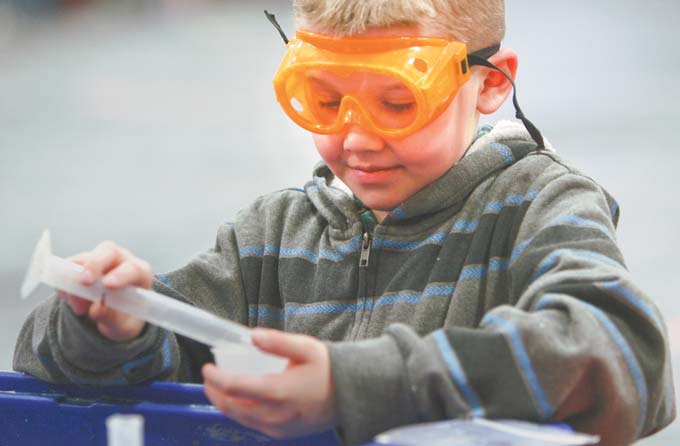 Photo
Jacob Scolville, a fourth-grader at E.J. Blott Elementary in Liberty, mixes his own batch of slime in the gymnasium. On Wednesday, the Center on Science Industry's traveling exhibit called "It's Simple Chemistry" brought hands-on science activities to the students.
Liberty
Using Q-tips, E.J. Blott Elementary students rubbed invisible ink on a blank square of paper.
At first there was nothing, but a few sprays of sodium carbonate revealed purple messages written in the formerly invisible ink.
Some messages were simple, like hello or the student's name, but some were homages to dead pets, a greeting to a handicapped sibling or a message of love to a classmate.
The activity was only one of a dozen available at stations fitted with chemistry experiments and set up in the gym next to the elementary school on Wednesday by the Columbus-based Center of Science and Industry.
The exhibit, overseen by COSI outreach educator Katie Trausch, provided students with hands-on science experience they otherwise would not receive in class.
Trausch said the day's exhibit, "It's Simply Chemistry," is one of six traveling exhibits COSI organizes, all geared toward elementary school students.
Trausch opened the day with a chemistry show, educating the children on chemical reactions by using a mystery plot to find the missing product in order to make slime.
After her show, classes rotated throughout the gym, visiting tables where 31 volunteers supervised experiments.
Katie Reed, a fourth- grader, said her favorite exhibit was creating slime.
"I can put it on my mother as a joke," she said, her head fitted with a pair of oversized goggles.
It is the third year for the exhibit, said Blott principal Michael Palmer.
Fourteen of the volunteers manning the tables were high school students like Emily Huffman, a junior honor student who taught elementary students how to make different colored slime.
Or there was senior Jalissa Mathews and Arleigh Bowser, a junior, who showed students how to identify what household products are acidic, basic or neutral.
But Palmer said what is different this year was the parent participation.
"That's something that's really changed," he said.
The 17 other volunteers were parents and grandparents who took morning crash courses on the experiments at their tables.
Marcie Decker, a parent and PTA representative, said volunteers also were in the gym on Tuesday setting up tables and laying the plastic that protected the hardwood floor from chemicals.
Decker said the hardest part of organizing was finding parents who would be willing to stay all day.
"Almost everybody that is here is staying all day long," she said.
And for the day, the parents and grandparents played educators.
"The PTA has been fantastic," Palmer said. "They've made it go real smooth here."