Springfield ousted by Chanel's defense, 3s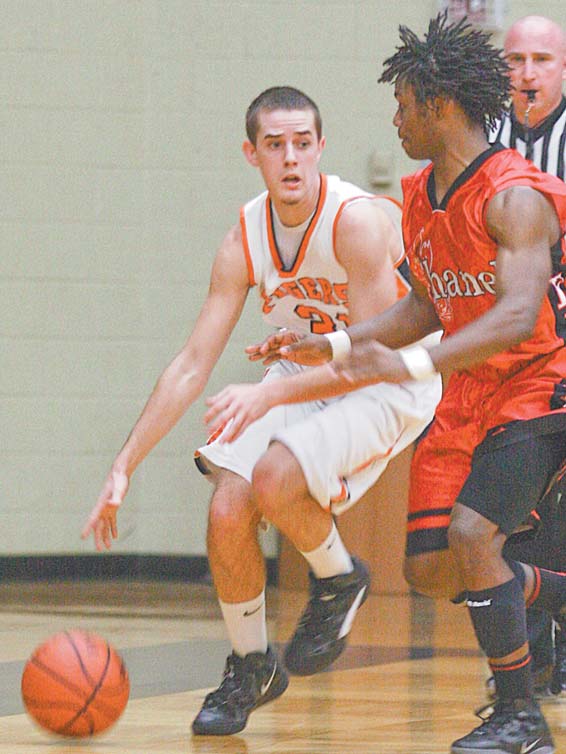 ---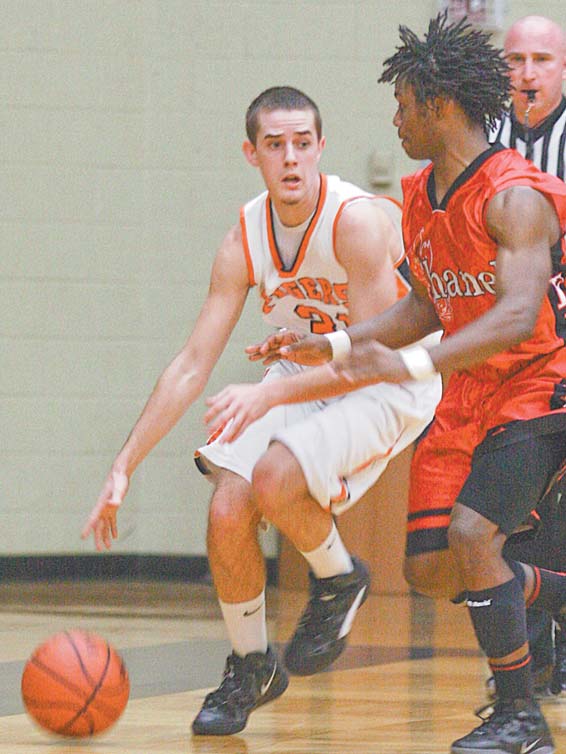 Photo
Ron Rogers of Springfield tries to evade Chanel's Brionne Duke (2) during the Division III regional semifinal Wednesday at Canton Memorial Fieldhouse. The Firebirds were too much for the Tigers, who lost 55-37.
canton
Instead of being ecstatic, Eric Fender was pragmatic.
The Springfield High boys basketball coach knew his team faced a challenge against No. 7-ranked Bedford Chanel in their Division III regional semifinal matchup. The Firebirds' athleticism allows them to handle many styles of play, which was evident in their 55-37 victory over the Tigers on Wednesday night.
"They put great ball pressure on us for 32 minutes and we knew we'd have to handle that in order to give ourselves an opportunity to win," said Fender, who guided Springfield to the Inter Tri-County Tier One championship this season.
Although Springfield fell behind by 14 points at halftime, 27-13, it was not without spirited play — on both sides — in the first 16 minutes.
Chanel (22-3) was effective with its full-court press early and then the Firebirds were successful via penetration and 3-point range shooting, offensively.
Meanwhile, Springfield (21-3) was limited to one shot offensively as well as being at a rebounding disadvantage. Against Chanel's quickness in all areas of the floor, the Tigers were also having trouble with turnovers.
When it was over, the Firebirds benefited from 23 steals, including nine by Tommie Williams.
Dan Bailey had 13 points for Chanel, while Nick Russell's 11 points paced Springfield.
"We were still penetrating, but they were packing it in so much that we took what was there [3s]," Chanel coach Hugh McMahon said. "We tried to make sure our positioning was better, so we had some wide-open 3s and we started hitting those and that was good."
Two 3s by Montell Goodwin and one by Williams widened the Firebirds' lead from 9-8 after one quarter to 18-8.
"Looking at their schedule this year, they'd never seen anything like that," McMahon said of his team's full-court pressure. "We had a lot of opportunities [from the pressure], but didn't necessarily cash in on those at the beginning. But as the game went on, especially at the start of the second half, it really got to them and we built a nice lead there."
From no more than 15 feet away, double-team coverage enabled Chanel to put up the first six points of the third quarter when, following Kyree Brewer's basket on an alley-oop, Ishmael Hargrove converted back-to-back steals into points via layups.
"I don't know how many teams in the state of Ohio actually face a team like that that's putting 32 minutes [of pressure when on defense] and subbing nine guys deep," Fender said. "They're just relentless on you."
The Tigers made 14 goals to 23 of 47 by Chanel, which was successful near the basket early in the game before settling for perimeter shots.
"We knew we had to take away their penetration," Fender said. "If we were going to lose, we were going to lose by them hitting 3s, which they ended up doing in the second quarter. We can't be disappointed because we executed our game plan the best we can and can't hold your head down for that."
Hargrove led Chanel, which will play Berkshire in the championship game Saturday night, with seven rebounds and he had five steals.