Harding defense comes up big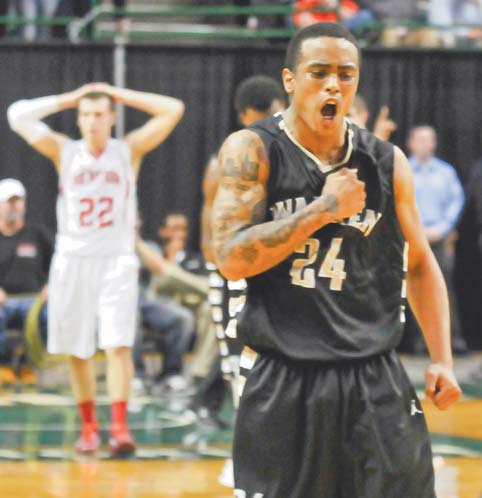 Photo
Warren Harding's Rasaun Smith thumps his chest as he walks off the court after the Raiders defeated Mentor in the Division I regional final Wednesday at Cleveland State University. With 19 seconds left to play, Smith got Mentor's Justin Fritts, background, to lose control of the ball, which he then snatched away and converted for a bucket to give the Raiders the lead and 57-54 win.
By matthew peaslee
CLEVELAND
Rasuan Smith has made plenty of steals in his 18 years of playing basketball — he'll be sure to remind you of that.
But no defensive stand will ever come close to the one he pulled off with 19 seconds left in Warren Harding's regional semifinal game against Mentor on Wednesday.
Mentor's Justin Fritts received an inbounds pass after Rashid Gaston's layup brought the Raiders to 54-53. Smith bodied him up, reached out and the ball came loose.
After a jump and a dive, Smith picked it up and converted a bucket to give Harding the lead and the eventual 57-54 win.
Truth be told, that's not what he originally wanted to happen.
"I wasn't looking for the steal," Smith said. "I played good D, moved my feet and the ball came out.
"All I saw was the ball go off his foot and I attacked it. I wanted it more and when I want it more — I'm going to get it."
Flashy plays — six dunks and six blocks — may have headlined the Raiders' venture, but coach Steve Arnold wanted them to win it with strong defense.
"The play that Rasuan made at the end, you can't coach that," Arnold said. "He made a tremendous defensive effort and finished the shot which was huge."
Their biggest advantage was their height as they outrebounded the Cardinals, 36-31 with 10 second-chance opportunities. Still, it helped all over the court, just not on the glass.
"When you have to go against guys that are 6-6 and 6-7, you have to change what you're doing," Arnold said of the Cardinals. "We had the height and the wingspan and talked about always staying an arms length away to make them shoot over us. We had to make them shoot over us and we did a good job of that."
The Cardinals shot just 18-of-54 from the field and were 10-of-27 from 3-point range.
That final 27th look could've given them the win.
Harding (21-3) got the ball back after Shaheed Davis blocked a quick attempt from Caleb Potter with 12 seconds left. Arthur Cook knocked down a free throw after being fouled on a fast break and Mentor wanted a triple to overcome the 56-54 deficit.
Danny Wallack missed an open look.
"He had a great look; You have to hit those," Mentor coach Bob Krizancic said.
The miss brought on a Raider celebration, but Jesse Hardin was fouled with 0.7 seconds left. He knocked down one for the final score of 57-54 and the party picked up again.
"It was a great feeling," Smith said. "We were pumped up to finish it."
Harding trailed for the entire first quarter and most of the second. Davis tied it at 15 2:35 into the second quarter, then DelShawn Bell got the lead as he was fouled on an inside jumpshot two minutes later.
"When you have players that make plays, that's a credit to them and their heart and determination," Arnold said.
Rashid Gaston scored 14 points, as Davis came off the bench to add 13. Smith and Hardin had nine and seven points, respectively.
Fritts led all-scorers with 22 points and Potter had 14.
"I thought by the way we played — we had a chance to win it," Krizanic, the Youngstown State graduate and former coach at Girard, said. "You want to win without shooting well and hope that you have another game to fix it. Unfortunately, we don't."