Struthers Wildcats soaring into regional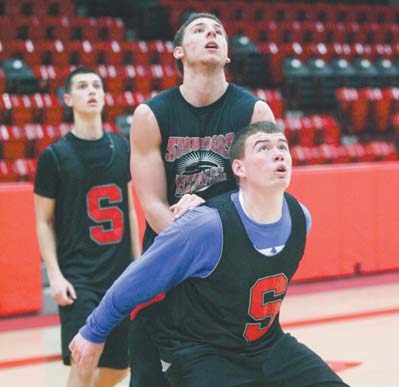 Photo
Struthers basketball players, including Austin Grewe, front, practice at Struthers High School. The Wildcats face Mentor Lake Catholic in the Division II regional semifinal tonight at Canton Civic Center.
By MATTHEW PEASLEE
With the start of a new season back in December, the Struthers High boys basketball team wanted to do what no other Wildcats have done in school history.
Repeat as district champions.
Losing seven seniors, including Mount Union-bound guard Nate Jacubec, may have caused some outsiders to doubt the Wildcats.A handful of players stepping in had no varsity experience at all.
A 2-2 start to the season further dented those plans.
"Jake [Jacubec] was the only one with any experience," coach Joe Savko said. "They were all JV players, so we didn't know how quickly we were going to mesh.
"We had good skill players to go around Jake, but we didn't know how quickly they would adjust to be a full team."
Not long, it turns out.
Struthers won 17 of its next 19 games all the way to the regional semifinals where it faces Mentor Lake Catholic tonight at the Canton Civic Center.
"We grew and [it] snowballed as the season went on," Savko said.
Austin Grewe, Dylan Schmidt and Jordan Sapp — all seniors — turned out to be the perfect complements to Jake Jacubec, despite playing their first regular varsity games.
"In the beginning I was real nervous not being very experienced," Sapp said. "I wouldn't say it was hard. Everybody from last year prepared me for this. We knew what was expected of us."
Sapp recalls his first freshman practice led by assistant Justin Hayward. Those early lessons fueled the next four years and this successful senior campaign.
"We didn't touch a ball for the first three weeks," Sapp said of the freshman practices. "It got me prepared to be a varsity player. I was one of the slower guys so I had to work hard defensively and the offense came around."
He's been looked at as a contributor on the wing. In a junior varsity game last season he knocked down 12 3-pointers.
"Jordan, Austin and Dylan all accepted their roles and handled them well," Jacubec said. "They came in ready to play and were focused because they knew a lot would be asked of them."
He had a lot to be ready for, too. Jacubec was a the starting point guard as a junior and had to handle the position with even greater responsibility this year.
"Getting a lot of playing time last year prepared me so much more to realize what it takes to win," he said.
The Wildcats lost to Cleveland John Hay, 74-60, in the regional semifinal a year ago. Despite the disappointment of that loss, the Wildcats insist they've learned from it.
"We're a different team now," Savko said. "It's a different mentality. Guys this year, even though they didn't play, know what to expect. We'll be ready."
The goal was always to get to this point, but a win would just extend a dream season that began with some doubt.
Sapp is in the same position as the class that proceeded him, but he along with five other seniors are the only ones that can claim back-to-back district titles.
"They'll still be good next year," Sapp said. "We're just leaving it up to them to three-peat."