---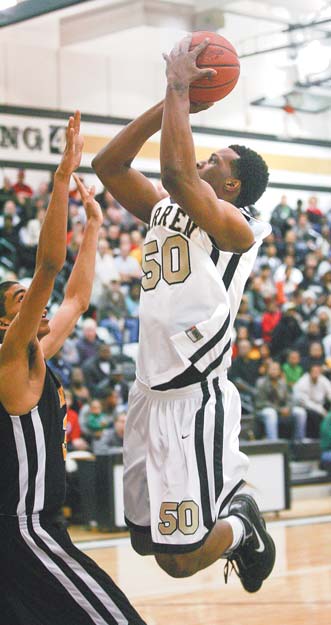 Photo
Rashid Gaston (50) of Warren Harding is averaging 13 points and nine rebounds per game, both team-highs, as the Raiders prepare to play Mentor tonight in the regional tournament.
WARREN
While being interviewed following Warren Harding's district final win over Green in Alliance, an assistant coach whispered into Steve Arnold's ear, telling him that Mentor had defeated Brush in the Euclid district final.
With a slight sigh and a sensitive grimace, Arnold got back into talking.
"They're going to be tough," said the head coach.
It was a brief moment that interrupted the smiles, hugs, photographs and glory of winning a district crown.
It also served as a friendly reminder that there's work, plenty of it, to complete the Raiders' goal.
"In my opinion I think we can go to the state championship and compete for it," senior guard Jesse Hardin said. "If we don't go all the way, it's going to be a ruined season."
The steps to competing for that championship — what would be the school's first — starts tonight at 6:15 p.m., in the Wolstein Center on Cleveland State's campus.
Both Harding (20-3) and the Cardinals (22-2) reached the regional semifinal in dramatic fashion.
Mentor overcame a 13-point third quarter deficit to dismiss the Arcs for the fourth-straight time in a district final.
The Raiders had a streak of their own, losing two district championships in a row, so by polishing off Green in overtime, they got back on track.
"It's been in our minds since last year," said Rashid Gaston who converted the winning basket as time expired. "We all remembered the pain of losing and the feeling is so much better to win it."
Arthur Cook added, "I was nervous, just a little bit. We kept fighting at the end we pulled it out."
With seven seniors and 10 players regularly seeing playing time — Harding is deep, disciplined and experienced.
The Cardinals top out their roster with a 6-foot-5 center, Kyle Morris and a 6-4 sophomore, Brandon Fritts. At 6-foot-7, both Gaston and Shaheed Davis give the Raiders their biggest advantage through an inside game.
But with speed on the wings, Arnold likes to use that to his advantage in every game plan.
"We want to wear [other teams] down," he said. "We want to make it a baseline-to-baseline game."
The Raiders do play to push the ball and fuel the tempo, but for two minutes in the fourth quarter of their game against the Bulldogs, Cook held the ball at the top of the key to run the clock down and idle the game.
Harding played without starters Rasuan Smith (stomach pains) and Hardin (three fouls) for much of the second quarter. In their place, stepped in seldom-used King Garner, who "held down the fort," Arnold said.
The sophomore didn't turn the ball over and had two points, two rebounds and a steal.
Smith and Hardin, along with Gaston and Cook scored in double figures, but unsung performances like Garner's just make the steps to state a little easier.
"We're all unselfish players," Gaston said. "We all have the same goal to win so we always work together."
For 32 minutes — they will. If it takes an extra four like it did on Saturday — they still will.
"We showed the heart of a champion," Arnold said. "Sometimes it is about heart and determination."