Rockets' Carlson named All-Ohio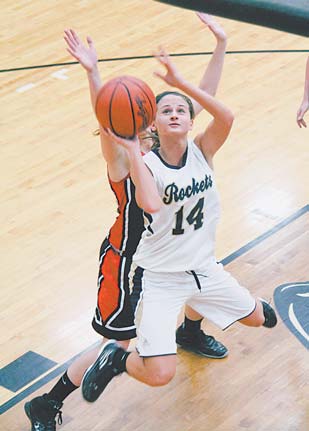 Photo
Emily Carlson (14) of Lowellville has been named to the Associated Press All-Ohio first team in girls basketball for Division IV. She averaged 14.7 points per game for the Rockets.
Staff report
Senior Emily Carlson, who helped Lowellville High School to a district championship, was named to the Associated Press Division IV All-Ohio girls basketball first team on Tuesday.
Carlson averaged 14.7 points and 6.5 assists per game for the Rockets, who finished 22-3 and also won the Inter Tri-County League Tier Two championship with a 14-0 record.
She was joined on the Div. IV team by teammates Taylor Hvisdak and Ashley Moore, who were selected honorable mention.
All three players achieved 1,000 career points this season.
Also in Div. IV, Sarah Bonar (5-foot-11 senior) of Badger was named third team. Bonar, also a 1,000-point scorer in her career, averaged 23.0 points per game for the Braves.
Colleen Kennehan of Western Reserve (also a 1,000-point scorer), along with Ashley Harrison of Crestview, Mikyla Tipton of Wellsville, Sarah Cash of Lordstown and Allyson Jones of Bristol were named special mention in Div. IV.
Named to the honorable mention team were Taylor Stanley of McDonald (another 1,000-point scorer), Lauren Lee of Warren JFK and Brooke Dawson of Maplewood
The Div. III All-Ohio team was led by Champion junior Mackenzie Kiser. The daughter of LaBrae boys basketball coach Chad Kiser, she averaged 17.3 points per game for the Flashes.
Ursuline teammates Courtney Powell and Aurielle Irizzary earned special mention and honorable mention, respectively.
Also, Alexis Naples of South Range and Brooke Barreca of Newton Falls were selected to the special mention team.
Other honorable mention selections were Taylor Smith of United, Ashlee Stubbs of LaBrae, Rachel Ellis of Newton Falls, and Brooke Schrieber of Springfield.