Milder winter leads to savings for Valley engineer offices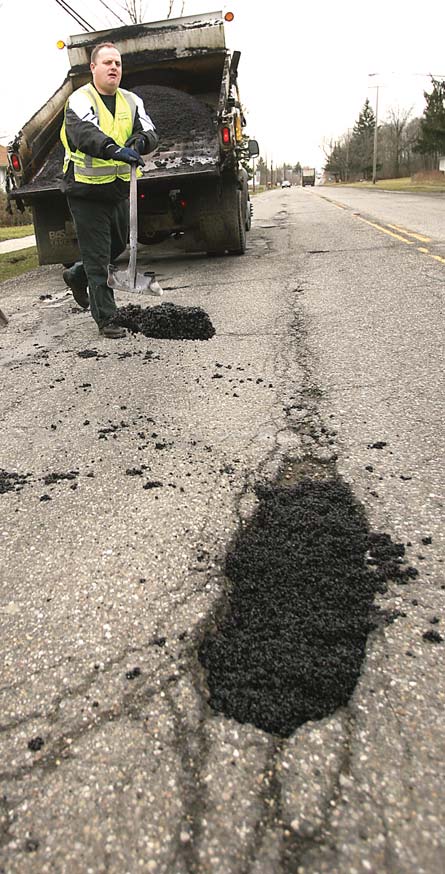 ---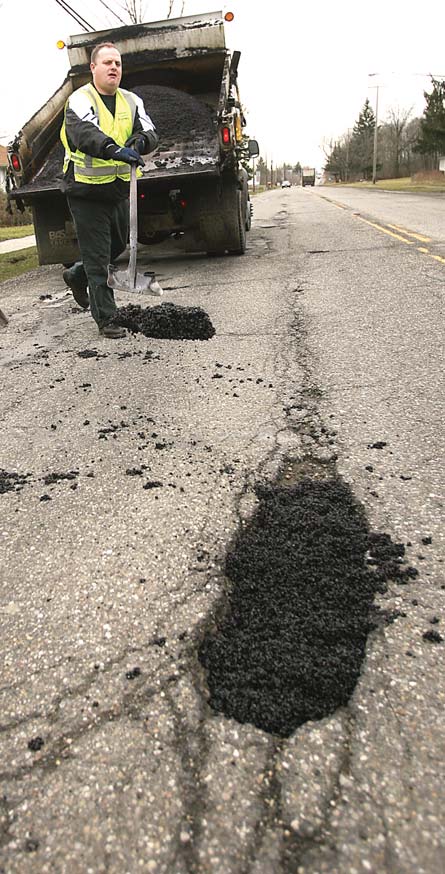 Photo
Brian Tidings, a worker with the Mahoning County Engineer's office, tries to keep up with spring tasks by filling potholes with cold patch on Mahoning Avenue in North Jackson. County engineer employees have been busy fi lling potholes instead of plowing snow and salting roads, thanks to a mild winter season.
By Peter H. Milliken and Elise Franco
YOUNGSTOWN
Mahoning Valley governments are experiencing savings thanks to a relatively mild winter season, but some have to find a way to store a surplus of salt.
The Mahoning and Trumbull County Engineer's offices, for example, have major cost savings in overtime and snow-and-ice control material usage this winter, compared with last winter.
So far, the Mahoning County Engineer's Office has spent only half what it spent last winter on salt and slag and less than 55 percent of what it spent last winter on overtime for snow and ice removal.
However, Marilyn Kenner, chief deputy county engineer, said she must budget conservatively because it's still early in the year; and many funding commitments and financial uncertainties still await her office.
"We don't know if we're going to collect the same amount of revenues that we normally collect," Kenner said. "We don't know what fuel prices are going to be."
If fuel prices rise substantially, the engineer's office will not only have to pay more for its fuel, it also may receive less fuel-tax revenue if price increases cause people to buy less fuel and drive less, she explained.
Kenner's department is funded primarily by motor-vehicle registration fees and taxes on gasoline and diesel fuel.
The Mahoning County Engineer's office spent $128,627 through February last winter, but only $69,708 this winter on overtime. The cost of salt and slag applied to the 493 miles of county roads during the same comparison period fell from $429,519 to $215,073.
She said the money saved will go into road improvement projects, such as the widening of Western Reserve Road, culvert replacements, crack sealing and extensive road patching.
All eight of the department's laid-off workers were recalled last fall, Kenner said. "We intend not to lay off this year, unless circumstances become such that we are forced to do it."
The engineer's office spent a total of $11,823,098 in 2011; and its budget for this year is $11,543,265.
With 118.7 inches of snow, last winter set the Mahoning Valley's all-time record, according to the National Weather Service. So far this winter, the Valley has had 53.1 inches of snow, with 54.4 inches being the normal total for an entire winter here.
Because of the mild winter, the engineer's office has been able to perform many tasks that would have to be postponed during a harsh winter, such as pothole patching, roadside drainage ditch-digging and cleaning of catch basins and culverts with the sewer jet.
"This year, right now, because it's been mild, we've been able to systematically patch the holes as they've been popping out," Kenner said.
This year's unused salt will be stored under cover and saved for next year, and the county hopes it can save money by ordering less salt for next winter, Kenner concluded.
There have been savings at the township and city level, too.
Boardman Township Road Superintendent Larry Wilson said he is usually appropriated about $55,000 annually for overtime costs, and the bulk of the overtime is used during winter for dropping salt and removing snow.
"We're probably looking at about half the amount of overtime this winter," Wilson said.
Wilson added that overtime costs have been trending down. Two years ago, a contract change stipulated that only one road employee had to be in the truck removing snow.
Austintown Township Administrator Michael Dockry said the township saved $16,000 in labor and overtime due to the mild winter. Dockry said it saved about $100,000 in salt and slag, as well as snow and ice removal between Dec. 1, 2011, and Feb. 29, 2012.
Also, Youngstown saved a considerable amount of money on clearing snow on its 560 miles of roadway because it didn't snow as much this winter. The city spent $880,000 on salt and slag for the 2011 winter, compared with $332,000 so far for this winter, said Charles Shasho, deputy director of Youngstown's public works department.
For Austintown and Boardman, salt storage is becoming an issue.
Dockry and Boardman Administrator Jason Loree both said their townships' salt barns are nearly at capacity but a state co-op contract dictates that the townships still have additional salt to purchase.
"I know for a fact that a lot of northeast Ohio communities are scrambling to find out what they're going to do," Loree said. "Our barn will hold another 400 tons, but we still have 1,000 tons to purchase through the state co-op."
Dockry said Austintown still has 600 of its 2,400 tons of salt left to purchase, but the salt barn is filled to capacity.
"At this point we either have to take it and figure something out," he said. "Or we could pay Morton's [Salt] a fee to store it for us until next season."
Dockry said Austintown used 1,800 tons of salt this winter season compared to 2,675 tons the previous season.
In Trumbull County, which has 462 miles of county roads, overtime was only $97,283 this winter through Feb. 29, compared to $237,742 last winter through Feb. 28, according figures compiled by Herb Laukhart, director of finance and personnel for the county engineer's office there.
Snow-and-ice control materials applied to Trumbull County roads through the end of February totaled $270,608 this winter, but cost $643,943 last winter.
The overtime and materials savings will allow more road repairs to be performed this year, Laukhart said.