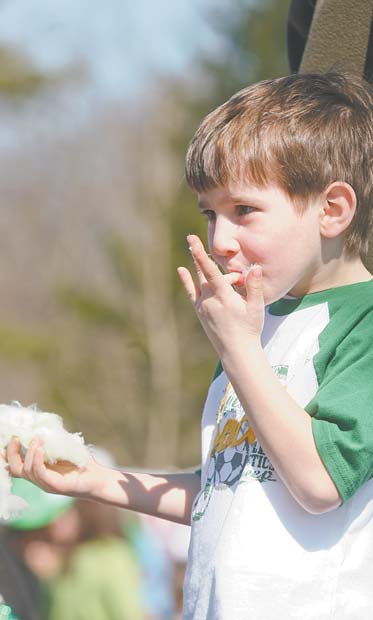 Photo
Andrew Moran, 5, of Boardman snacks on cotton candy during Sunday's St. Patrick's Day Parade, which marched on north Market Street in Boardman.
By Sean Barron
BOARDMAN
Jerry McNally carried what may have looked to many people like a typical Irish banner, but to him, it was filled with deep symbolism and emotion.
"I've always enjoyed this parade, regardless of the weather," said McNally, a U.S. Steel Corp. retiree and political activist.
McNally, of Youngstown, was referring to his partic-ipation in Sunday's 34th annual St. Patrick's Day parade, which got under way about 1 p.m. at Market Street and McClurg Road and proceeded to the Southwoods Executive Centre near Market and Southwoods Drive.
Event sponsors were Mahoning Valley Irish Organizations, 21 WFMJ-TV and The Vindicator.
For the past four years, McNally has made annual trips to Derry, Northern Ireland, in part to commemorate the 13 unarmed civil-rights protesters who were shot to death in the Jan. 30, 1972, Bogside Massacre, also known as "Bloody Sunday," in Derry.
Soldiers in the British Army also shot and wounded another 13 civilians during the Northern Ireland Civil Rights Association march.
While at a recent ceremony in Ireland, fellow activists gave McNally the banner, which depicts a map of the country's 32 counties, that he carried in Sunday's parade.
"Being that I'm somewhat politically active, I was proud to carry that banner," he added.
Taking part in the annual township parade also evoked memories of his participation in Derry marches, as well as many Irish people he met, McNally continued. Roughly 10,000 people took part in such a gathering in February 2011 in Derry, he said.
"I'm hoping that someday we'll have a united Ireland," McNally explained, noting that six of that country's counties remain under British control.
Accompanying McNally on several trips to Ireland was his girlfriend, Barb Patterson of Girard, a sales representative with Parker Hannifin Corp.
"It was a lot of fun," Patterson said of her first time in the Boardman parade. "We saw a lot of people we know, and seeing kids watching the parade, it was awesome."
During her trips to Ireland, Patterson met several Irish women who had been imprisoned for their religious and political views. She and McNally also visited the gravesites of many Irish people such as Bobby Sands, who was a volunteer with the Provisional Irish Republican Army and who led a 1981 hunger strike in which Irish Republican prisoners protested against the removal of certain privileges.
Patterson also gave the local parade top marks for the numerous floats and bands, as well as the overall camaraderie.
A sea of green lined both sides of Market Street as many of the estimated 15,000 to 20,000 attendees watched the procession wearing green attire, hats and, in some cases, hair. Temperatures in the mid-60s and abundant sunshine prompted some people to bring picnic blankets and barbecue grills.
Participants included numerous area police and fire departments, elected officials, high-school marching bands and health-care facilities.
The parade's grand marshal was John Sheridan, a 1955 Ursuline High School graduate who retired after 44 years in the local grocery business.
"I just want to thank everyone for coming out," said an emotional Sheridan, who worked for A&P, Golden Dawn Foods and the Peter D. Schmidt Co. "Being selected as grand marshal was overwhelming."
For more than 50 years, Sheridan has been a charter member of the New Springfield-based Mahoning Valley Gaelic Society and remains active in the Irish community, he said.
Accompanying Sheridan was his wife, Mary; daughters, Kathy and Susan; four grandchildren and other relatives and friends.
Also happy with the weather and turnout was Jim "Muggsy" McGuinness, president of the Ancient Order of Hibernians in Boardman.
The number of spectators and participants far exceeded that of the last few years, thanks largely to Sunday's ideal weather, he noted.
Mirroring that view was Joyce Kale-Pesta, parade president.
This year's event drew about 187 entries, compared to last year's estimated 90, she noted.
"I'm thrilled people turned out for this parade," Kale-Pesta said, adding that the local parade is said to be the third-largest in Ohio.