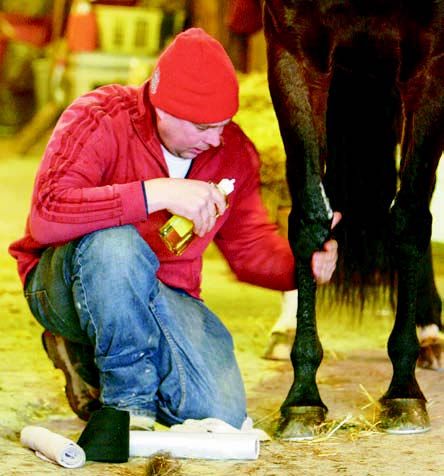 Photo
Working with the horse's legs is a constant and daily work for Andy Rickert of Berlin Center as he rubs down a horse with liniment and alcohol before wrapping the legs after a workout.
The Canfield Fairgrounds are in use all year long, especially by the horses
STORY & PHOTOS
CANFIELD
At the Canfield Fair- grounds "Speed Barn," as it is affectionately known, owners and trainers go about the daily business of training and conditioning standardbred horses for the harness-racing season.
Although the horses only run a few days at the Canfield Fair, most race year-round. The fairgrounds has been a training facility for years, with horses and stables passed down from grandfather to father to sons and daughters.
The all-too-familiar clip-clop sound of the horses as they walk down the center of the barn is like music to the owners' ears. Good trainers and owners can literally tell if a horse is 'off' by the sounds of the horses' hooves hitting the pavement.
Mary Cain of Canfield used to show Quarter Horses all over the country, but she said she has found more satisfaction and enjoyment with the daily grind of training and racing standardbreds.
Harness horses, although raced several times a year, are worked almost daily when in training, which includes not only the daily workout of 3 to 6 miles of track work or jog, but also rubdowns, cleaning and checking hooves, daily brushing, and feeding menus that would make Martha Stewart blush.
Melanie O'Donnell of Rickert Racing Stable of Berlin Center carefully makes a mash of feed three times a day of their grain and supplements to ensure that each horse's nutritional needs are met.
The process can take more than an hour as she mixes more than a dozen buckets of food.
Andy Rickert, owner and trainer, helps and carefully watches every horse go out for its run. He helps untack the horse and begins a process of thoroughly checking each animal from the tip of the nose to the bottom of each leg and hoof.
Years of experience and a good set of hands can usually help tell when a horse may be feeling a bit of pain from a sore muscle or tendon. Andy will carefully hand massage the animal and wrap it with wraps after thoroughly working in liniment or alcohol to help the horse through the minor discomfort.
As Andy puts it, " The horses give back 10 times what you give them if you treat them right."