An inside look at drilling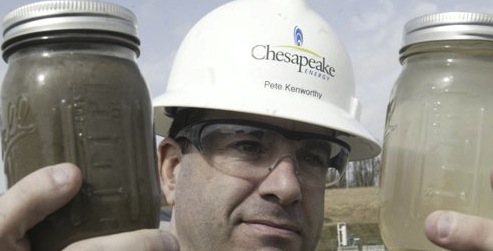 ---
Gas Well Drilling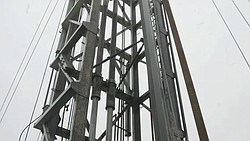 Video
A Chesepeake Energy gas well being drilled in western Columbiana County.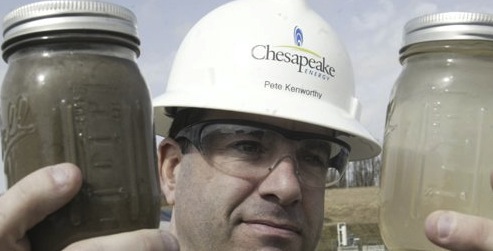 Photo
Pete Kenworthy, manager of media relations for Chesapeake Energy Corp., holds two jars of water. The first, on the left, contains produced water from the fracking process. The jar on the right contains treated water that will be reused at another well.
By Karl Henkel
khenkel@vindy.com
The Ayrview Acres Utica Shale drilling operation on state Route 30 towers over the rural stretches of Columbiana County's West Township.
Propped up a few hundred feet above ground level, the five-acre drilling pad is accessible from an inclining, winding driveway that stretches a few hundred feet from the road.
On an unseasonably warm March afternoon, between 10 and 15 workers — from states such as Texas and Minnesota, judging by the on-site license plates — work sporadically stuffing approximately 12,000 feet of pipe through 20 or so underground formations until it reaches the Utica Shale, a formation about 7,000 feet beneath the earth's surface rich in dry gas, wet gas and oil.
After reaching the intended vertical depth using an air-drilling process, the workers will pull the long drill pipe back from the ground and refit the pipe with a drill bit that can be shifted a few degrees horizontally from thousands of feet below the ground.
These are the initial stages of a Utica Shale well, which takes months of preparation, execution and perfection, along with about $7 million to $9 million, before any natural resource extraction takes place.
Oklahoma City-based Chesapeake Energy Corp., a company that in some form or fashion has handled nearly all Utica Shale wells in Ohio, operates the well site.
There has been much discussion of the ramifications of a horizontally fractured well, which uses a high-pressure mix of water, chemicals and sand to crack open pores of shale rock to open natural-resource reserves.
But there has been little discussion about the actual process, seemingly cloaked in mystery. Chesapeake invited The Vindicator to tour this site while the drilling operation was under way.
THE AYRVIEW WELL
The West Township well, one of three on the Ayrview property, is currently in the drilling stage.
A drill pipe initially is suspended in the air by the drill rig — the tall, towerlike structure that for a short time makes extraction and injection wells stick out like a Sears Tower replica in a subdivision of two-story ranches.
This is not to be confused with fracking, a process in which water, chemicals and sand are blasted into shale rock to unlock natural resources.
That process comes later.
The air drilling takes the drill pipe down 7,000 feet to a precise location determined from extensive seismic testing conducted well before Chesapeake ever breaks ground on a well site.
Then a special drill bit is affixed to the end of the pipe. That bit can be rotated a degree or two so the company can drill laterally.
This process is no longer air-drilled; instead, Chesapeake uses a synthetic-based drilling mud.
Unlike conventional drilling, say, with a cordless drill, workers are blind to the earth beneath their feet.
So how do they know the bit is headed in the right direction?
They are blind but not unaware; they can tell by the way the drill cuttings come back toward the surface using computer technology.
The drilling churns up tons upon tons of earth material, bringing with it naturally occurring radioactive material or NORM.
That dark black soilish-looking product is trucked off-site to landfills.
The drilling process takes about a month to complete; the rig runs around the clock during this time.
The entire process is incredibly noisy, especially for those on-site. A monotone humming sound can be heard from the roadway a few hundred feet away.
Upon the completion of drilling, however, there is still a long way to go before any resource extraction occurs.
READY TO FRACK
At the Ayrview site sits thousands of feet of 5½-inch diameter steel production casing manufactured by V&M Star in Youngstown.
Chesapeake will string that pipe down the drilled well.
From the surface, Chesapeake will string a perforating gun with an electrical current to create small holes in the production casing, which will perforate between 24 and 36 inches of the shale in a vertical fashion.
Next comes the fracking fluid, blasted down the well at pressures of nearly 7,000 pounds per square inch.
The process uses, on average, about 4 million to 5 million gallons of water and anywhere from 18,000 to 35,000 gallons of chemicals and other additives.
But Chesapeake does not pump all of that fluid down the well at one time, nor does it use a consistent mix of all additives.
A horizontal well is actually fracked about 10 times, in segments 200 to 300 feet apart.
At the front end, the mix contains a higher concentration of hydrochloric acid, then a gelling agent such as guar gum (also used to make ice cream creamy) to thicken the water and carry sand to keep shale fissures open.
The furthest point along the horizontal leg — sometimes a mile away from the wellhead on the surface — is fracked first, then plugged off to prevent any resource extraction up the well.
The well is then fracked again moving toward the vertical leg, and once again repeated.
Once all segments have been fracked, Chesapeake will drill through the plugs and the extraction process begins.
THE FINISHED PRODUCT
One of Chesapeake's completed wells, in Carroll County's Center Township, is representative of the finished product in Utica and Marcellus shale exploration.
The Shaw wellhead, which forms a large, red T-like formation, stands about as tall and with the same wingspan as a professional basketball player.
A few hundred feet in the distance, pushed up against the back of the well pad, sit a myriad of devices — a compressor, a separator that cleaves dry gas from wet gas, and production tanks.
The compressor buzzes intermittently depending on dry-gas production.
Produced water, which will continue to surface throughout its lifetime, is separated.
But instead of heading to an injection well for disposal, Chesapeake has installed a temporary fluid-treating process, which presses out and filters any solids in the fluid, which can then be used to frack another well.
It is at this point where the process starts all over again: site selection, reclamation, drilling, fracking and finally production.
Think: Rinse, wash, repeat.
In Ohio, 4,000 or 5,000 times over.