Published: Sat, March 10, 2012 @ 12:01 a.m.
RELATED: Brine wells pumped $1.5M into Ohio coffers in '11
UIC Report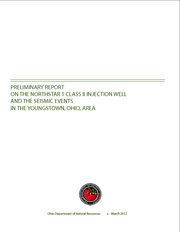 Document
Preliminary Report on the Northstar 1 Class II Injection Well and the Seismic Events in the Youngstown, Ohio, Area
UIC Executive Summary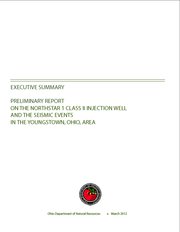 Document
Executive Summary: Preliminary Report on the Northstar 1 Class II Injection Well and the Seismic Events in the Youngstown, Ohio, Area
D & L Energy Questions Findings, Timing of ODNR Report

Document
D & L Energy Questions Findings, Timing of ODNR Report
By Chelsea Miller
cmiller@vindy.com
YOUNGSTOWN
Local officials reacted with little surprise at the Ohio Department of Natural Resources' report Friday that told many what they already knew:
D&L Energy Inc.'s Youngstown brine-injection well was the cause of 13 earthquakes since last March.
The 24-page preliminary report officially linked the seismic activity, which started March 17, 2011, and continued through Jan. 13, to the injection well on Ohio Works Drive used for disposal of brine, or fracking wastewater.
The report also outlines new state standards for brine disposal.
Mayor Chuck Sammarone said the news was hardly a shock.
"Basically what they've proven is what a lot of people around here have assumed," Sammarone said.
State Rep. Robert F. Hagan of Youngstown, D-60th, accused Ohio Gov. John Kasich of ignoring warnings to shut down the well to "protect the [oil and gas] industry."
Hagan renewed his call to permanently shutter the well, which has not operated since Dec. 30 at the behest of ODNR and Kasich.
Dec. 30 also was just one day before a magnitude-4.0 quake shook the Valley.
"We have to move in an environmentally friendly, safe way to continue, and we should shut the D&L injection well down forever," Hagan said.
Initially skeptical that the well was responsible, ODNR released its report based on "a series of co-occurring events," including seismic events that were clustered less than a mile from the injection.
The D&L Youngstown well is one of 177 deep injection wells in Ohio. Injection wells are a disposal method for brine, a salty, chemical byproduct of natural-gas and oil drilling. D&L drilled the nearly 9,300-foot well into the Precambrian bedrock formation, a nearly impermeable rock formation at about 9,000 feet below ground in the Mahoning Valley.
D&L on Friday argued that it remained in constant contact with ODNR and followed all protocol and procedures. It also blamed ODNR for "bad science" in the way the investigation was handled.
"ODNR makes its preliminary conclusions without conducting any testing at the Northstar No. 1 well site," read a D&L statement. "The agency appears satisfied to base its conclusions on the limited scientific data available from outside sources."
D&L said it will continue its own study into the matter.
ODNR's investigation into the correlation between seismic activity and the injection well took nearly six months.
After an ODNR spokeswoman told The Vindicator in October the agency was looking into an earthquake-injection well correlation, ODNR Geologist Tom Tomastik a week later told WKSU radio there was no connection.
In mid-November, new ODNR Director James Zehringer said he wanted more data on the seismic activity in Youngstown.
It was then ODNR sought out Columbia University's Lamont-Doherty Earth Observatory to install portable seismographs to further detail the depths, locations and magnitudes of any future earthquakes.
After a magnitude-2.5 earthquake Dec. 24, ODNR determined the depth was shallower than the previous nine earthquakes. Six days later, ODNR shut down the D&L Youngstown well.
Carlo LoParo, communications officer at ODNR, said D&L Energy will not be responsible for damages to homes as the company just had "bad luck."
"Our data indicates that the well was operating within specified pressures, but an unfortunate series of events, including the specific geology of an area, likely contributed to a seismic activity," LoParo said.
The fact that D&L's well reached the depths of Precambrian bedrock formation was likely the cause of seismic activity, but rarely can one induce earthquakes this way, LoParo said.
He added that D&L Energy complied with all regulatory standards but likely hit an unmapped fault, which triggered the earthquakes.
LoParo said new regulations, detailed in ODNR's report, will prevent any other seismic activity from drilling.
Among the new regulations: Well operators must submit comprehensive geological data when requesting a drill site and electronically track the chemical makeup of all drilling wastewater.
Some changes take effect immediately, but some, such as fluid tracking, need legislative approval.
Ray Beiersdorfer, geology professor at Youngstown State University, said that isn't guaranteed.
"I don't think you can say one way or the other in terms of that," he said.
"If they continue to pump in there, just because the Precambrian is sealed off, you can't conclusively say that the fluids aren't going to get in other fractures by going into the formation on top of the Precambrian [Mount Simon Sandstone] and then migrating into places other than right near the well."
Beiersdorfer added that while most new reforms may work, he takes umbrage with how ODNR handled the situation, pointing to a series of changes in the way D&L operated the well.
On March 14, 2011, D&L Energy requested an increase in the maximum allowable surface injection pressure from the initial approved 1,890 pounds per square inch to 2,250 psi.
ODNR granted the increase March 16, and the next day, a magnitude-2.6 earthquake rattled Youngstown.
On May 3, 2011 D&L Energy requested a second pressure increase to 2,500 psi.
ODNR again granted the increase.
"You would have thought that would have thrown up a red flag and they would have been more cautious, but right ahead ... they increased the pressure," he said. "I find that troubling."
State Sen. Joe Schiavoini of Canfield, D-33rd, agreed with part of ODNR's report.
Schiavoni issued a statement saying the report demonstrates "the state is trying to take responsible steps in addressing the earthquake issue."
He said there are problems, however.
"The regulations proposed by ODNR ignore the larger issue of what to do with wastewater from fracking," he said. "State legislators and the Kasich administration need to work together on a bipartisan basis to find a solution that strikes the proper balance between encouraging economic development, protecting the environment and keeping our citizens safe."
Pennsylvania and other drilling states could see nearly immediate impacts from the new Ohio rules announced Friday.
Pennsylvania has limited the deep injection of wastewater because its geology precludes it. Six of its deep injection wells accept fracking fluid. Ohio has 177 such wells.
Drillers in Pennsylvania sent almost 1.5 million barrels of waste to injection wells in Ohio during the second half of 2011, said Kevin Sunday, a spokesman for the Pennsylvania Department of Environmental Protection.
But with Ohio now planning to require electronic monitoring of wastewater, and that technology not widely available yet, Pennsylvania and other states seeking to send wastewater to Ohio may need a Plan B in the interim.
The Associated Press contributed to this report.
EXTRACTED FROM THE REPORT
A number of coincidental circumstances appear to make a compelling argument for the recent Youngstown-area seismic events to have been induced:
•  The Northstar 1 well began injection operations in December 2010. Roughly three months later, the first seismic events were noted and were fairly close to the well;
•  Subsequent seismic events were clustered around the vicinity of the wellbore;
•  Evidence of permeability
zones within the Precambrian
basement rock is interpreted in some of the geophysical logs obtained from within the Northstar 1 well; and (Logs A, B, C, D)
• Once sufficient monitoring
equipment was in place, the focal depths of events were found to be about 4,000 ft (1,220 m) laterally and 2,500 ft (760 m) vertically from the wellbore terminus.