Lowellville loses to Hiland in semifinal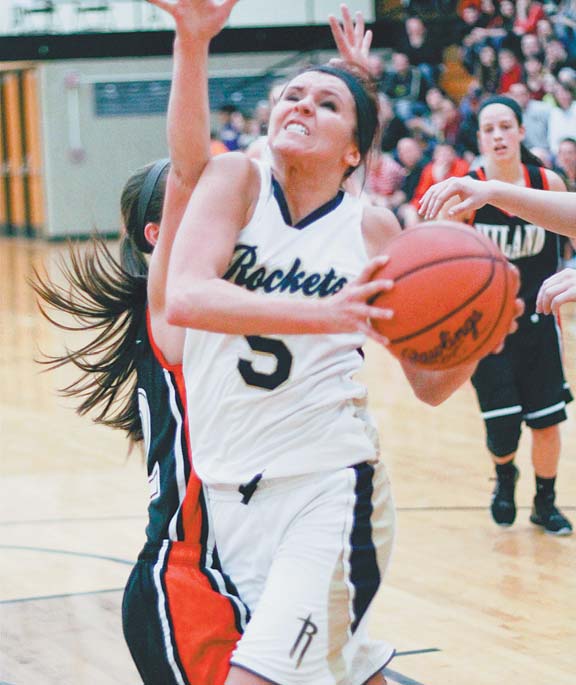 ---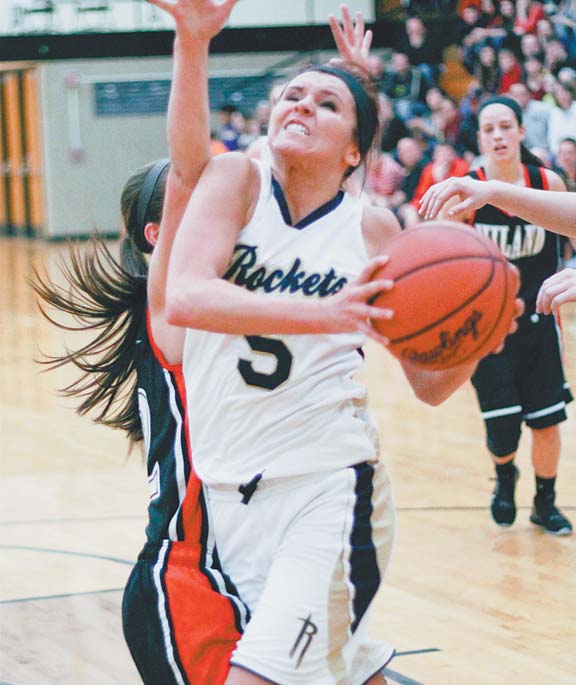 Photo
Lowellville's Ashley Moore (5) charges past Berlin Hiland defender Jenica Schrock (12) on her way to the basket during their Division IV regional semifinal Thursday at Massillon Perry High School. The Hawks' defense and depth proved too much for the Rockets, who fell 47-37.
Lowellville loses to Hiland in semifinal
By Tom Williams
MASSILLON
Surprised to be tied at halftime against Lowellville, Hiland girls basketball coach Dave Schlabach knew his players had to stop trying to outrun the Rockets.
"They were just a lot quicker than we thought," said Schlabach of the Inter Tri-County League champions. "We tried to belly them up and pressure them, and they ran right by us so we decided to play off and make them work."
The switch to a half-court defense, plus Hiland's depth, proved too much for the Rockets, who lost 47-37 in the Division IV regional semifinal on Thursday night at Perry High.
The strategy change led to several steals and rebounds that were converted into a 9-2 run to open the second half.
Lowellville coach Tony Matisi wasn't surprised. After scouting Hiland (17-8), Matisi knew his players were going to be challenged to keep up with the Hawks' fresher players.
"Rosecrans was like us, playing five-to-six," said Matisi, referring to Hiland's depth that featured 10 players. "You can't simulate that in a week-and-a-half of practice.
"We wore down as the clock wore down and my biggest fear was of second, third and fourth rebounds," Matisi said.
The Hawks led 37-29 after three quarters.
"The second half just took its toll," said Matisi after the Rockets missed 12-3-point attempts. "We couldn't get into any flow. We had some decent looks — we needed a couple to fall. But I don't think we left anything out there."
The second half was a reversal of the first when the Rockets withstood a 9-0 run by Hiland in the first quarter for a 23-23 tie at halftime.
Junior Kaye Solak ignited the Rockets, scoring 10 of her 12 points in the first two quarters.
"She definitely stood up for us," said senior Taylor Hvisdak of Solak. "She amazed me, honestly. She definitely took her role and brought it to a new level.
"I think [the Hawks' plan] in the third quarter was to slow her down," Hvisdak said. "I don't think they expected her to come out like that but I'm thankful that she did [but] they kind of got the hint in the second half.
"We needed to come out a little stronger in the third but we fought to the end," Hvisdak said. "I think we shocked them in the first half the way we came out and were aggressive."
As the game progressed, senior Emily Carlson said it became harder to keep up.
"They kept subbing people in," Carlson said. "I could just see it on our faces how we were exhausted. We gave it our best shot, that's all you can ask for."
McKenzie Miller led the Hawks with 12 points and five rebounds. Regan Miller came off the bench to score six points and pull down eight rebounds.
The loss was the final varsity game for Hvisdak, Carlson and Ashley Moore (four-year starters who each scored more than 1,000 points) and Kelly Hynes, the first player off the bench.
"They are very special, [they have] a work ethic like I've never seen," Matisi said. "What's so hard right now is I don't think they thought they would get beat. They believed and they were confident — I think that makes this a little bit worse."
Unlike previous years when key players were injured at tournament time, this year's squad was at full strength. Matisi said he was grateful for the chance to send his five best players onto the court healthy.
"But to come up short doesn't feel very good," Matisi said.