For many area Christians, Fridays during Lent mean fish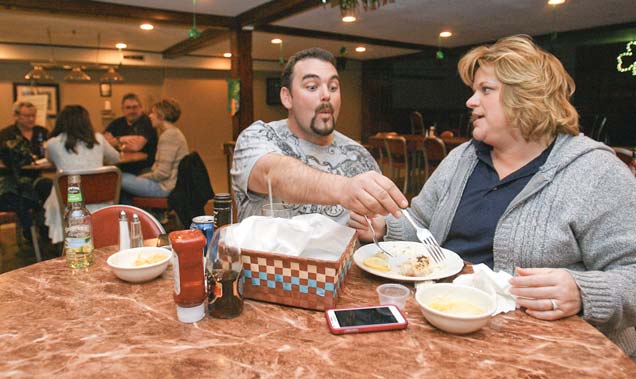 Photo
Dustin Shamp tries to sample a bite of fish from his fiancée, DeAnna Hardwick, of Poland at the weekly fish fry at the Youngstown Maennerchor on Mahoning Avenue. The couple has been coming to the dinners for years.
SEE ALSO: FISH DINNERS | Where to go
By Chelsea Miller
cmiller@vindy.com
YOUNGSTOWN
LENT IS A TIME FOR fasting and penance for many Catholics in the area.
Friday fish dinners, always a staple among Catholics, have become popular among all religious denominations, however.
For those like Brian Welsch, the fish dinners are a way to raise money while having fun.
Welsch is vice president of the Youngstown Maennerchor, a German singing club established in 1863. Welsch, who has been a member for 25 years, estimates the club sells at least 50 fish dinners a week during Lent.
"It's a moneymaker for us," he said. "The club's open to all members on Friday and brings in nonmembers as well to have a good time."
Jennifer Keffler, volunteer coordinator at St. Christine Church in Youngstown, said Lent dinners can be both a social event and a fundraiser.
The church will use dinner profits to fund a gymnasium at the parish school.
Keffler said since the dinners started five years ago, they've been well attended.
"It's kind of a social event. Families come and bring their kids and have a good time," she said.
While many local organizations, such as the Lowelville Rod and Gun Club, use fundraising efforts during Lent, many area restaurants have found they can attract a large crowd of Catholic diners by having similar events.
The Austintown Eagles banquet hall has its version of a Lenten dinner, in all-you-can-eat form.
For $11 for adults and $5.99 for children, families receive a buffet-style fish dinner.
The Boulevard Tavern has fish dinners every Friday year-round. Lent, however, brings the largest crowds.
"That's what we're famous for," said manager Craig Deoring, of its fish dinners.
For $10.75, a diner gets haddock, fries and cole slaw, Deoring said, adding Youngstown's large Catholic base keeps the restaurant busy.
Not everyone has jumped on the bandwagon, however.
St. Stanislaus Kostka has found its pirogi sales to be more profitable than fish dinners.
"We don't have enough people to hold [a fish dinner] every week," said Deacon Mike Schlais.
Instead, the parish offers its pirogies, every Friday, from 9 a.m. to 1 p.m.
The pirogies are available for dine-in or carryout.
Schlais said the profits from pirogi sales are used to keep the church's doors open. Coupled with sales to some local stores, pirogies are the biggest money-maker for the church, especially during Lent.
"St. Stan's has the best pirogies," Schlais said. "We use real potatoes and the same recipe for over 20 years."
Although St. Stanislaus does not have a regular Friday fish dinner during Lent, a fish-and-shrimp dinner will be from 4 to 7 p.m. March 23 in the church hall.