Local celebrities read at Dobbins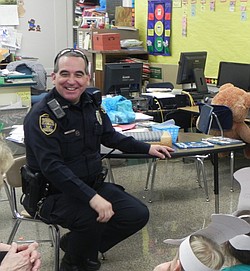 Photo
Neighbors | Sarah Foor .Poland police officer Tom Johnson (left) laughed at the antics of Stephanie Mateja's Dobbins kindergartners during his visit to the school for a story time on Read Across America day, March 2.

Photo
Neighbors | Sarah Foor .Suzanne James' first-graders shared their smiles after a story time with news anchor Greta Mittereder (back). Mittereder read "The Lorax" to the Dobbins students during Read Across America Day on March 2.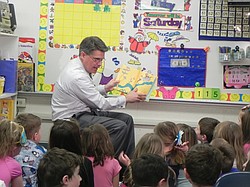 Photo
Neighbors | Sarah Foor .Local news anchor Stan Boney (left) read a Dr. Seuss book to Kim Aikens' first-grade Dobbins classroom during Read Across America day on March 2.
By SARAH FOOR
To celebrate Read Across America Day on March 2, Dobbins Elementary welcomed familiar faces that dominate the worlds of politics, news, education and law enforcement in Poland and in the Mahoning Valley.
An impressive list of local celebrities visited Dobbins to share their love of reading with classrooms throughout the school. The guests included Poland police officer Tom Johnson and chief Brian Goodin, firefighter Janett Ziegler, news anchors Stan Boney and Greta Mittereder, state representative Ron Gerberry, Mahoning County educational consultant Chris Bero, Poland superintendent Robert Zorn, and Poland school board president Larry Dinopoulos.
Read Across America coincides with the birthday of Dr. Seuss, so many guest readers shared selections from the beloved author.
Guest readers like Boney and Mittereder read Seuss tales like "The Lorax" and "Wacky Wednesday" and chatted with groups of first-graders about their lives in the news business. Zorn shared a book of idioms with a group of third-graders and helped the students work out the meanings of the well-worn phrases.
Dobbins celebrates Read Across America with a different celebration every year. Dobbins principal Cheryl Borovitcky said welcoming the prominent guest readers had a special impact among her students.
"A very important part of literacy is having adults read to and read with children. To have the students see familiar faces and local celebrities read to them is a real inspiration," Borovitcky said.
More like this from vindy.com