Published: Fri, March 9, 2012 @ 12:08 a.m.
FLORIDA FOCUS
Jason Kokrak says a better putting performance is the key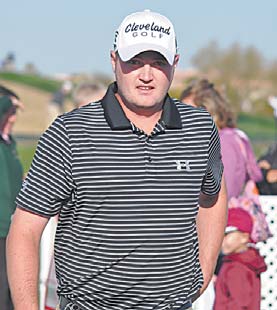 Photo
After taking a week off from the PGA tour, Warren JFK grad Jason Kokrak is going into a three-tournament string starting next weekend looking not just to make the cut, but to win.
After a 42nd-place tie in the Honda Classic last weekend, Jason Kokrak has taken the week off before a three-tournament string starting with the Transitions Championships from March 15-18.
Sadly, the break allowed the Warren JFK graduate to return to the area to attend funeral services for an uncle.
Of the PGA Tour's two tournaments this weekend — WGC-Cadillac Championship at Doral and Puerto Rico Open.
Instead, his plans for the immediate weeks include concentrating on making the cuts — and more.
"Making cuts is what you want to do, but the better you can finish the more money you make, which eventually puts you further up on the FedEx Cup points standings list which gets you into more tournaments and gets you into the Tour championship," Kokrak said of his objectives. "It also gets you a step closer to keeping your card."
As of March 4, Kokrak was 79th with 131 points in the PGA Tour FedExCup standings with $217,528 in earnings.
He's one place behind Sergio Garcia with 131 and $304,875 in money. No. 1 was Kyle Stanley with 935 points and $1,938,515. Tiger Woods was 17th with 346 and $699,000.
Jason, who will follow the Transitions with the Arnold Palmer Invitational at Bay Hill (March 22-25), then the Shell Houston Open (Mar. 29-April 1), was pleased with his consistent play in the Honda Open at West Palm Beach.
"I hit the ball well, but didn't putt great," he said. "I played well enough to make the cut, but not well enough to challenge the leaders."
After participation in seven PGA events so far in 2012, making cuts isn't good enough.
"You shouldn't enter a golf tournament just to make the cut, you should enter a golf tournament to win," Kokrak said. "I know it sounds a little arrogant, but if you ask anybody out on Tour if they're entering the tournament to make the cut, then they're lying.
"Everybody's out there to win the golf tournament each week and everybody out there is good enough to win week-in and week-out. If you go into each week just to make the cut, it's a small goal to try to achieve. Your major goal should be to win golf tournaments."
Kokrak was asked about Woods, who was runner-up at Honda, regaining his old touch.
"You never know what Tiger's going to do. We owe a lot to him because we're playing for a lot of money out here and that's mainly because of him.
"There are a few other guys — Arnold Palmer and Jack Nicklaus — who kind of set the bar. But Tiger is one of the most dominant players to play the game, so we owe a lot to him. I'd love for him to rise to the top and start playing well again because a lot of players want to match up their games to Tiger Woods and play against him head-to-head to see if they can beat him at the top of his game."
How do playing conditions of courses on the East Coast differ from those on the West Coast and in the Southwest?
"Well, the humidity is 80 to 100 percent as opposed to 30 or 45 percent," Kokrak said. "Pebble Beach [Calif.] is cold and the ball doesn't travel as far and there are adjustments that you need to make. Now that we're back on the East Coast, it should be a little more consistent.
"You might play a little bit more in the wind, but that's about it. You've just go to place your ball better and strike the ball a little more solid, which, in turn, doesn't affect the [flight of the] ball as much."