Shale boom gives rise to 1,400-plus new jobs in Valley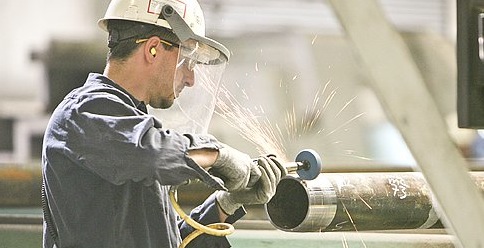 ---
SEE ALSO: • Shale drilling frenzy paying off for TMK-IPSCO in Brookfield
• Poland to appoint panel for advice on drilling
By Karl Henkel
khenkel@vindy.com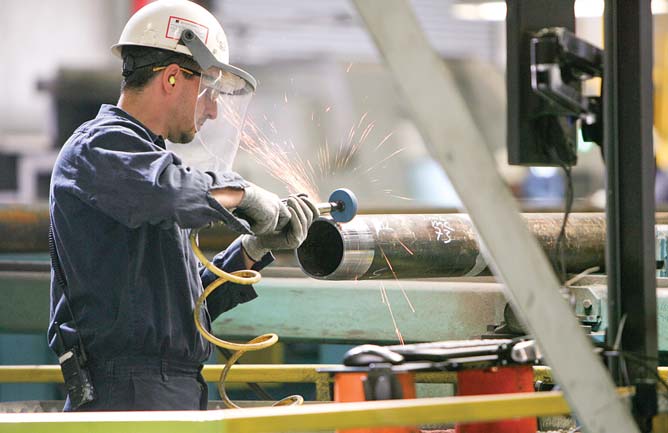 Photo
Mike Christoff is one of 71 workers at TMK-IPSCO in Brookfi eld. The company threads pipe for use in the natural gas and oil drilling industry. TMK-IPSCO plans to expand its work force to 120 to meet growing demand for the steel pipes.
YOUNGSTOWN
The contested debate regarding Ohio jobs related to Utica and Marcellus shale exploration continues to be off the charts, with estimates as low as 20,000, as high as 200,000 and everywhere in between.
To date, local or locally based businesses have created or soon will create more than 1,400 jobs related to natural gas and oil exploration.
Nearly one-third of those jobs have or will be created by Vallourec, the French-based owners of V&M Star and VAM LLC.
Others, such as Houston-based Exterran Energy
Solutions, Russia-based TMK and Girard-based Valley Electrical Consolidated already have topped or have announced they will exceed 100 area jobs.
Currently, 71 work at TMK-IPSCO in Brookfield; 27 were unemployed before they were hired.
The company expects to soon grow to at least 120 positions, said Ivonne A. Baez, corporate
communications manager.
Chris Jaskiewicz, senior vice president and chief operating officer of Valley Electrical Consolidated Inc., said his company has about 65 locally based employees in engineering support and an additional 155 in field support.
Most of those jobs were created as a result of the Marcellus Shale exploration in Pennsylvania.
Those numbers could grow to 80 and 270, respectively.
The job totals make up a small portion of the 243,300 employed in the three-county area as of December, according to the Ohio Department of Job and Family Services, but can be tied to the Valley's decreasing unemployment.
The area unemployment rate dropped from 10.5 percent to 8.5 percent in December, the most current available statistics, and the economy added 2,000 jobs. As a general rule, roughly 500 added jobs would decrease the area's unemployment by 0.1 percent.
While the opportunity for work is enticing for some, wages also are attractive to potential employees.
"We pay well, which brings a lot of people to us," said Bruno Miletta, president of Bolt Construction in Youngstown, which employs 18 who work in various parts of the county.
Those 18 employees, which Miletta attributes mostly to Utica Shale activity in Ohio, could be joined by 18 more in the next year.
Miletta said he interviewed three times as many potential employees for those 18 positions but noted the labor force isn't flush with work-ready talent.
"The work ethic is sometimes missing," he said.
Others say they've found future employees but are waiting for demand to catch up.
Ray Pander Trucking Inc. in Warren, which has worked in the oil and gas transportation business for 30 years, had its largest year-to-year growth in 2011, hiring 20 new drivers.
"I've read where it is difficult to find qualified drivers, but I can't say I don't have enough qualified drivers applying," said R.C. Pander. "I've got some people I'd love to hire, but I need to get a little more growth before I do."
Bert Cene, executive director at the Mahoning and Columbiana Training Association, said training programs for shale-related jobs are operating at full speed ahead, but MCTA also is anticipating more jobs in the future.
"Things are going well," he said. "But we're kind of waiting right now."