Associated Press
BRADENTON, Fla.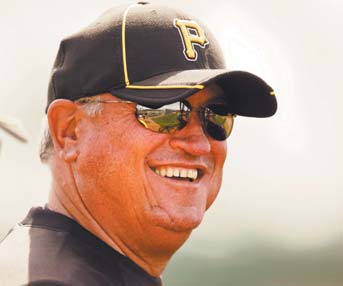 Photo
Pittsburgh Pirates manager Clint Hurdle was happy to bring in shortstop Clint Barmes during the off season. The two were reunited from their time with the Colorado Rockies.
Manager Clint Hurdle needed a dependable shortstop. Clint Barmes wanted to rejuvenate his career. Reunited this spring with the Pittsburgh Pirates, they both might get their wish.
Barmes, 33, is in camp with the Pirates for the first time after signing a two-year contract worth $10.5 million. He spent eight up-and-down seasons with the Colorado Rockies, then last year was traded to the Houston Astros.
Playing in the National League Central Division, Barmes saw how Hurdle, his former skipper with the Rockies, is trying to turn around the Pirates. Pittsburgh flirted with first place until late July and wound up finishing fourth.
"The talent here and what the team did last year is very exciting," Barmes said. "I'm excited to be a part of all this."
When he was hired before the 2011 season, Hurdle insisted he was not intimidated by the Pirates' then-18-year run of losing seasons. The team's 72-90 record last year might not seem like much, but it is a 15-game improvement from 2010.
"One of the reasons I came here was I felt good about the vision for the future," Hurdle said. "But, more importantly, I saw there's action."
After getting limited production the past two years from shortstop Ronny Cedeno, the Pirates declined to pick up his $3 million option for 2012. At Hurdle's urging, the team went after Barmes aggressively in the free-agent market. He signed barely three weeks into the offseason.
Barmes was a rookie of the year candidate in 2005 until his season was cut short by a broken collarbone. The injury ravaged his swing, and Barmes' batting average plunged 69 points to .220 in 2006.
He rebounded in 2009, hitting .290 with 11 home runs. But after the 2010 season, Barmes was dealt to Houston for pitcher Felipe Paulino.
"It's been a grind," Barmes said. "I've had some good years and some pretty bad years, too. I have a lot of confidence that this year I will be a lot more consistent at the plate because of some of the adjustments I've made."
The biggest change Barmes made was keeping his hands away from his body when he starts his swing. He no longer chops downward at the ball and is better able to hold up on pitches down and out of the zone.
"I still believe Clint's best years are in front of him," Hurdle said. "He's got a makeup that fits our ballclub and our city. He's had to fight, scratch and claw for everything he's ever gotten and he plays the game the same way.
"The presence, not just on the field but in everything he does, is going to help us."