Valley splits support on GOP presidential candidates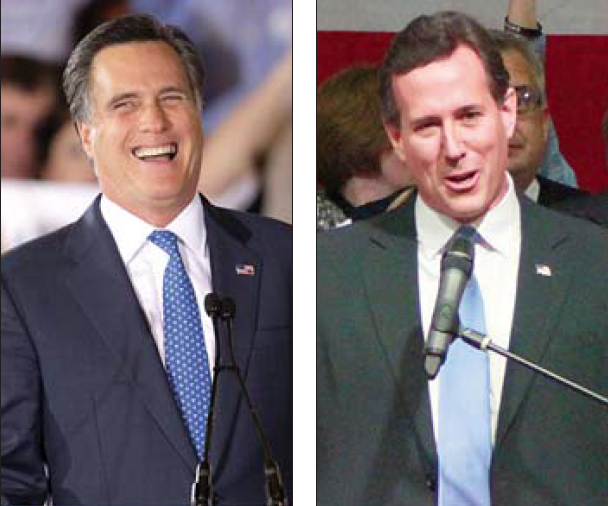 ---
RELATED: • Local LDS bishop: Romney's faith isn't determining factor
• Romney takes 5 states; Santorum gets three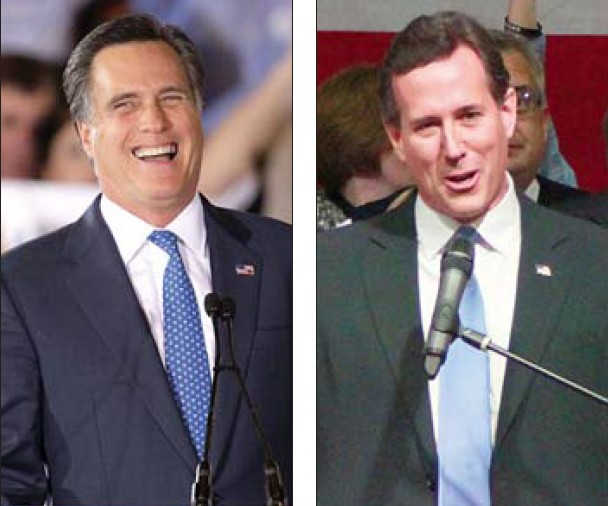 Photo
Republican presidential candidates Mitt Romney, left, and Rick Santorum address supporters during Super Tuesday campaign rallies.
YOUNGSTOWN
In an extremely tight race, Mitt Romney edged Rick Santorum in the Ohio Republican primary.
With 96 percent of the vote counted, Romney was about 12,000 votes ahead of Santorum. Romney won Mahoning and Trumbull counties in close races and was blown out by the former Pennsylvania senator in Columbiana County.
Regardless of the official outcome, Romney almost definitely will receive a majority of the state's 66 delegates, in part, because of a failure by the Santorum campaign.
Republican candidates are on the ballot twice in Ohio — once for 15 at-large delegates divided among the candidates based on the statewide vote, and once for three delegates in each of the state's 16 congressional districts. Ohio also has three super at-large delegates not bound by Tuesday's primary vote.
Santorum couldn't find any delegates willing to support him for the party's nomination in three Ohio congressional districts — the new 6th, a 17-county district including all of Columbiana County and southern Mahoning County; the new 13th, which includes most of Mahoning and Trumbull counties; and the new 9th, which stretches from Cleveland to Toledo along Lake Erie.
Also, Santorum failed to find six other delegates in four other Ohio congressional districts.
All Santorum's campaign needed to do was find three delegates in each district and obtain at least 50 valid signatures on nominating petitions for those delegates.
The problem cost Santorum the three delegates in the new 6th, according to an analysis of vote totals by The Vindicator in that congressional district. That same analysis showed that based on unofficial and incomplete results, Santorum wouldn't have won either the 13th or 9th Districts.
A narrow Romney win in the key swing state doesn't provide the candidate with much momentum in his effort to capture the GOP presidential nomination.
In Columbiana County, Santorum soundly defeated Romney 42.63 percent to 27.97 percent in the at-large race.
With Santorum ineligible for delegates in the 6th, GOP voters in Columbiana voted for Newt Gingrich, who finished a distant third, to receive delegates.
Gingrich received 17.03 percent of the county's at-large vote, but received 36.79 percent of the 6th District delegate vote. Romney's at-large vote was 27.97 percent compared to 36.27 percent for the delegate vote. Gingrich had 50 more district delegate votes than Romney in Columbiana County.
"This is a very strong cultural conservative county," said Columbiana County GOP Chairman Dave Johnson, who is also Romney's county chairman there. "When you take Santorum out, Republicans went with Gingrich. This congressional district is very conservative. There's an uprising among conservatives. We're not unified behind anyone of our candidates. This group will eventually unite and the reason is they'll unite against [President Barack] Obama. But it's unsettled now."
Republican voters don't think Romney is conservative enough, said Johnson, who calls himself an "arch conservative" and added that Romney is conservative enough for him.
In Mahoning County, Romney edged Santorum by 2.5 percent, only 374 votes in the at-large race, according to unofficial totals.
In the delegate races for the 6th and 13th Congressional Districts, Romney won by about 10 percent over Gingrich.
"We knew it was going to be close," said county Republican Chairman Mark Munroe, that county's Romney chairman. "Santorum not filling delegates hurt him. The struggle for the nomination goes on."