Newton Falls takes control of fiesty Irish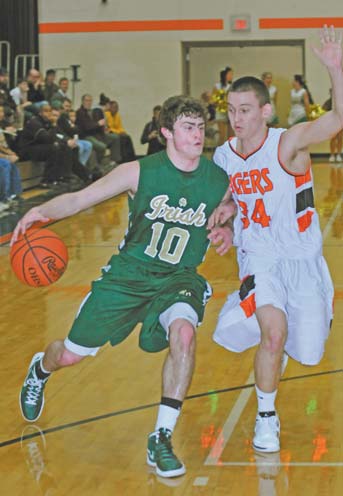 ---
— high school tournament basketball —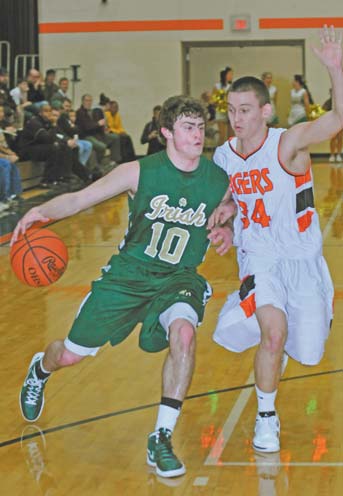 Photo
Ursuline's Ryan Strollo (10) dribbles against Newton Falls defender Mike Staton during Tuesday's tournament game at Howland.
HOWLAND
Matt Brazin and Cody Dillon of the Newton Falls boys basketball team sport neon orange Nike shoes in every game.
"Everybody asks us if they glow in the dark," Dillon said.
In the Tigers' 71-63 win over Ursuline in the district semifinal, the tandem shined brightly to fend off an attack in the third quarter when the Irish closed their 14 point deficit to three.
Brazin picked up a steal in the half court at the 3:38 mark, dished it up to Dillon who laid it in for an easy bucket. On Ursuline's next possession, Dillon stole an errant pass, found a streaking Brazin, and Newton Falls secured their lead, 46-37 at the time.
Like Spike Lee said in early-90's Nike commercials — "it's gotta be the shoes."
"All it is, is being aggressive and making plays," Brazin said. "It just worked out that I saw him on the first one, and he saw me on the second. It changed the game around."
He and Dillon each finished with four assists, with five and 22 points, respectively.
As for the sneakers...
"His idea," Brazin said pointing at Dillon. "My idea to get the bright yellow laces."
It's symbolic, kind of, that Dillon is the ring-leader of this Tiger team (20-3). He's a prolific scorer that gets a bulk of the attention. But on Tuesday, there was a lot to go around.
"Cody was Cody," Newton Falls coach Roy Sembach said, "but we had so many contributions from other players."
Nate Novotny helped spark an early 12-4 lead with three 3-pointers, Mitchell Kovach filled in for an injured Shawn Haines and scored 13 points, while Dale Kernen registered 18.
"We had three films that we watched, and honestly, those guys didn't do anything," said Irish coach Keith Gunther. "It was unexpected, but they stepped up and hit some shots and did a nice job."
Ursuline (13-10) started off in a zone defense, switching to man-to-man after halftime that helped initiate its comeback. Also, feeding the ball down low to 6-foot-9 senior Jalen Lowe was a boost. He scored all of the Irish's 11 points in the third and finished with 19.
Ryan Strollo knocked down five 3-pointers and finished with a game-high 27 points. What ultimately hurt the Irish, though, was point guard Ralph Naples and impact guard Kevin Jackson fouling out early in the fourth quarter. The Irish turned the ball over eight times after Naples left.
"We struggled," Gunther said. "That kind of threw it off."
The Tigers face Berkshire on Friday at 7 p.m., in the district final. The Badgers bounced them from the tournament a year ago. Newton Falls has reached the final in four of the past five years.