MAHONING COUNTY || Greene's the new sheriff in town
By Denise Dick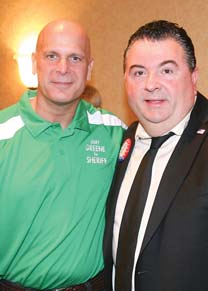 Photo
Jerry Greene, Mahoning County sheriff-elect, left, and Mahoning County Commissioner Anthony Traficanti mark their victories Tuesday during a gathering at the B&O Station in Youngstown.
Youngstown
Mahoning County Sheriff-elect Jerry Greene's first priority upon taking office next year is getting the jail fully opened.
"That's the No. 1 way to reduce crime in this community," Greene said Tuesday night.
Two prisoner housing units within the jail are now closed, and 23 deputies remain on layoff.
Greene won the Democratic nomination for sheriff with 56 percent of the vote, beating Jimmy Hughes, Youngstown's former police chief, with 24 percent, and Brian Goodin, Poland Township police chief, who garnered 20 percent.
All totals are unofficial until certified by the Mahoning County Board of Elections.
No Republicans or independent candidates filed to seek the office — meaning that Greene takes office in January.
Randall Wellington, sheriff since 1999, didn't seek re-election but endorsed Greene.
Greene, 45, joined the sheriff's department as a deputy in 1989 and was promoted to sergeant in July 2003 and to captain in May 2007, skipping the lieutenant rank. Wellington named him director of support services, a non-civil service position, last October, allowing Greene to seek the sheriff's position. By law, civil service employees may not seek political office.
"I want to get federal inmates back into that facility to generate income," Greene said of the jail. "I want to hire a full-time grant policy writer to generate income and I'm looking forward to working with the commissioners."
Greene had also listed as priorities adequate staffing of the county jail, and avoidance of overcrowding to maintain safety and avoid another federal lawsuit by prisoners. The jail was under federal court supervision through May 2010 after inmates won a 2003 lawsuit, contending the jail was unconstitutionally overcrowded.
The sheriff's department veteran believes his experience resonated with voters.
"I think people realized that I was probably the first person who ever ran for this office who's been a deputy sheriff his entire career," Greene said. "Both of my opponents, who have been chiefs, said they had more experience. But I have 22 years experience with the sheriff's office, moving up through the ranks."
Goodin, 49, of New Middletown, has been Poland chief since 2004. Hughes, 59 retired last summer as city police chief. He started with the department in 1977.