Mahoning commissioners || Ditzler, Traficanti win
By Elise Franco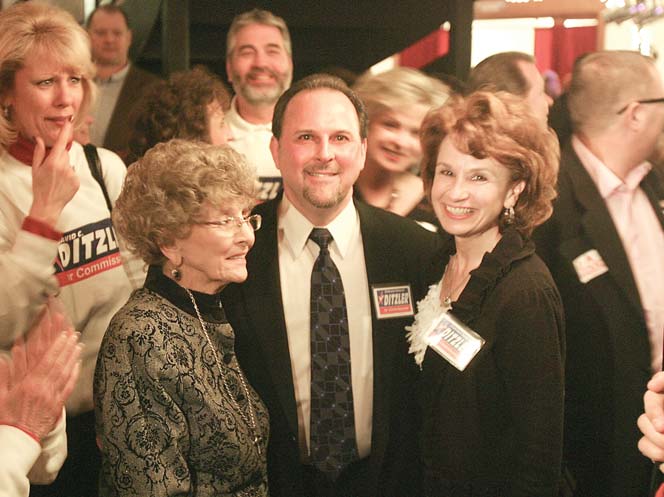 Photo
Austintown Trustee David Ditzler enjoys his victory as a Mahoning County commissioner Democratic nominee at the B&O Station. He celebrated Tuesday with his mother, Emogene, left, and wife, Jenny.
Youngstown
David Ditzler's victory in his primary race for Mahoning County commissioner pits him against three other candidates in November.
Ditzler, an Austintown trustee, finished with just more than half of the total votes, 50.16 percent.
Walter Pishkur of Boardman followed with 28.54 percent; Joe Louis Teague of Youngstown, 6.82; Patrick M. Chrystal of Youngstown, 5.99; Domenic DelMonte of Austintown, 4.80 percent; and Richard Oz Ouzounian of Boardman, 3.69.
The seat was vacated when current Commissioner John McNally IV decided not to seek re-election.
Ditzler will face Republican David V. Rossi of Boardman, Green Party candidate Howard Markert of Youngstown and independent candidate Edward L. Goldner Jr. of Berlin Center, in the general election.
Ditzler, who maintained a comfortable distance over Pishkur throughout the evening, said he was surprised but pleased with the outcome.
Pishkur was unavailable to comment Tuesday night.
"I wanted one more vote than the next guy," Ditzler said. "I had a lot of good people behind me."
Ditzler said he believes his endorsement by the Mahoning County Democratic Party is what helped push him to victory.
"My endorsement was from 300 precinct community people," he said. "They all have a good finger on the pulse of what the community wants."
Ditzler said previously that 18 years as a township trustee and nearly 30 years in business make him the most well-rounded candidate in the field.
He said as commissioner he would focus on government consolidation to save money. He pointed to the courts, fire districts and emergency 911 centers as areas for consolidation.
"Poor leadership" is the reason little consolidation in the county has occurred, Ditzler said.
Now that the primary election is behind him, Ditzler said he plans to take some time off from campaigning before diving back in for the general election.
"We'll take some time and then start all over again," he said. "We've got to make sure we work hard for the general election in November."
Ditzler raised $46,575 between Jan. 1 and Feb. 15. for his primary-election campaign. He also has $24,200 in loans owed to his campaign, according to Vindicator archives.
Also on the ballot for commissioner was incumbent Anthony Traficanti of Poland, who handily won re-election over challenger James S. Horvath of Campbell.
Traficanti had 75.81 percent of the vote, and Horvath finished with 24.19 percent.
This will be Traficanti's third four-year term.
He plans to make funding the Mahoning County jail his No. 1 priority.
"We have to get the jail funded, get the jail open and fully staffed and get the deputies back on the job," he said.
Traficanti said money from a $4.5 million carryover from 2011 will help with funding issues.
"Immediately I will transfer $1 million to the sheriff's office," he said.
Traficanti said the county also recently received a $450,000 grant for software called Inmate Management, which will allow the county to keep track of inmates.
"This software, once implemented, will help us track who is staying in our jail," he said. "There should be enough room for all of our violent felony offenders."
Traficanti said he also wants to bring back the Criminal Justice Working Group, which was a collaboration among judges, commissioners and prosecutors throughout Mahoning County.
"We need to get together and work out a plan to bring that panel back," he said.
Traficanti previously said that the county commissioners have balanced budgets in difficult financial times.
"It's been very tough [economically] these last few years," he said. "I'm glad we rode out the recession, but not to where we want to be. We still have to be conservative. Nobody should think everyone will get raises and everything [will go] back to being hunky-dory. We're still going to be watchful of our spending."
County officials will have to continue to do more with less money, Traficanti said.