Gains reigns in tight Mahoning race, fending off Macejko
SEE ALSO: Truth shall set you free
By PETER H. MILLIKEN
milliken@vindy.com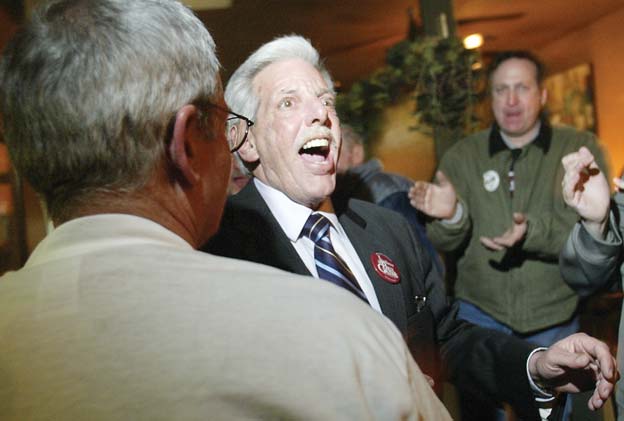 Photo
Mahoning County Prosecutor Paul Gains celebrates his winning re-election during a gathering Tuesday night at Cafe Cimmento. Gains narrowly defeated challenger Jay Macejko, who had the county Democratic Party central committee endorsement, to win a fifth term.
YOUNGSTOWN
Paul J. Gains won a fifth consecutive four-year term as Mahoning County prosecutor in the hotly contested Democratic primary by a mere 561 votes.
City Prosecutor Jay Macejko, who had the county Democratic Party central committee endorsement, challenged Gains, the 15-year incumbent county prosecutor, in Tuesday's election. Macejko was the only locally endorsed Democratic candidate to lose in the primary.
Gains got 16,385 votes, consisting of 50.87 percent of the vote, to Macejko's 15,824, which was 49.13 percent in unofficial results.
Macejko gave Gains his strongest challenge during his tenure as county prosecutor.
Gains attributed his victory to "Mr. Macejko's issues," including a derogatory text message about President Barack Obama in messages allegedly exchanged between Macejko and an assistant city prosecutor and a religious discrimination lawsuit against Macejko and the city.
He also credited The Vindicator's "strong endorsement" of his candidacy.
"We're going to continue to operate that office honestly and efficiently like we have," Gains said. "Stay tuned," he said tersely, without elaborating, at his victory celebration at Cafe Cimmento.
Macejko was an assistant county prosecutor under Gains before becoming city prosecutor.
The November election for prosecutor will be uncontested, except for possible write-in candidates, because no Republican or independent candidates will appear on the general election ballot.
"We're disappointed. We had a huge number of supporters that came out for us. I want to thank the thousands of people that voted for us and realized that change was necessary, and I couldn't be prouder of my family and everybody that came out for us," Macejko said.
"We wanted to bring it home for them, but we just fell a few votes short," he added.
"A message was sent from the people even in this loss that change is necessary and we've got to take steps to protect this community," he said.
"They [Gains supporters] threw everything at us that they possibly could, even things that weren't true, and we're still standing and we'll still be standing here. This isn't the last time that you'll see my name on a ballot. That's for sure," Macejko said at the B&O Station Banquet Hall, where endorsed Democrats and their supporters gathered, after all the county's votes were counted.
However, he did not specifically commit himself to running against for county prosecutor four years from now.
"It was a hard-fought campaign. It was a 15-year incumbent. Paul's had a good record, and the voters spoke, and that's how it went down," said Dave Betras, county Democratic chairman.
"I'll be calling Paul in the next couple of days and sit down with him, and he and I will mend any fences and we'll go from there," Betras said. "I support Paul now 100 percent."
Macejko was ahead among those who voted before election day by a 58.8 percent to 41.2 percent margin. The early votes, cast between Jan. 31 and last Friday, are the first to be counted after the polls close.
Gains attributed Macejko's early lead to many early votes having been cast before the late February emergence of negative publicity about the Obama text message.
Gains and Macejko traded barbs throughout the campaign.
Macejko accused Gains and his staff of making "critical mistakes," such as allegedly giving Jamar Houser the opportunity to kill Angeline Fimognari at St. Dominic Church on Jan. 23, 2010, by failing to oppose a bond reduction that allowed Houser to be freed from jail after he was charged with shooting up his ex-girlfriend's house.
Houser is now jailed under $3.1 million bond awaiting his capital murder trial in the Fimognari case.
Gains faulted Macejko for initially filing only a misdemeanor assault charge against 21-year-old Samuel Crayton for punching and breaking the nose of a 66-year-old man in a West Side fast food drive-through lane.
Macejko said he initially filed the misdemeanor charge because he lacked the medical records to prove the serious physical harm necessary for a felonious assault charge.
When he got those records, Macejko said he elevated the charge to felonious assault, to which Crayton pleaded guilty and for which Crayton is serving four years in prison.
Gains faulted Macejko for contributing to circumstances leading to the city's $110,000 settlement of a federal religious discrimination lawsuit by Bassil Ally, a Muslim assistant city prosecutor.
Macejko denied discriminating against Ally and said the case pertained to insubordination and work performance, not religion or religious accommodation.