Classy & tasty at the Stonebridge Grille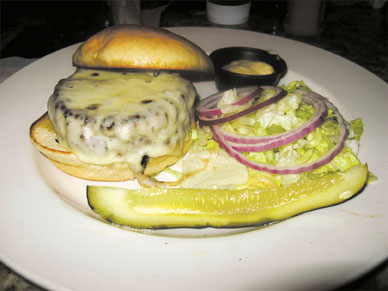 ---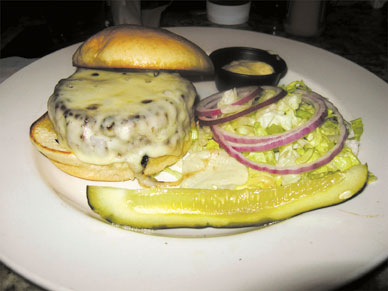 Photo
The Stonebridge Grille & Tavern's Kobe Burger before the burger guys "rate it."
Rating: 3 1/2 stars
Restaurant:
The Stonebridge Grille & Tavern,
1497 Boardman-Canfield Rd. Boardman, Ohio 44512
Menu: Offers 5 different burgers and a Turkey Burger
Phone: 330-629-8040
Kitchen hours: Sunday through Thursday: 11 a.m. to 10 p.m.; Friday & Saturday: 11 a.m. to 11:30 p.m.
Website: stonebridgegrille.com
By Anthony M. Fuda
MVBRB
When you are looking for a classy evening out and don't want to give up your burger, the Stonebridge Grille & Tavern has you covered.
The MVBRB guys cleaned ourselves up a little and headed down U.S. 224 in Boardman. We readied our group for an upscale burger in the bistro's elegant atmosphere.
The eatery prides itself in making all the "casual American cuisine" dishes from scratch. They use fresh Angus beef for the burgers — and nothing is better than a fresh hand-made burger.
We found a table in the lounge area, and our waitress, Brooke Seckler, made sure our burger evening was pleasant and fun.
The menu features five burgers ($6.49-$9.99), including a Classic, a Mushroom Swiss, and a Bacon Cheddar, but the creme de la creme is the Kobe beef burger. Kobe beef is a delicacy originating in Japan. It is known for its flavor, tenderness and fatty, well-marbled texture.
Kobe refers to cuts of beef from the black Tajima-ushi breed of Wagyu cattle, raised according to strict tradition in Hyo-go Prefecture, Japan. The meat is generally considered to be a delicacy, renowned for its flavor, tenderness, and fatty, well-marbled texture.
The massive increase in popularity of Kobe beef in the United States has led to the creation of "Kobe-style" beef, taken from domestically-raised Wagyu crossbred with Angus cattle.
The Grille also offer a turkey burger if someone in your group is not into a nice fresh ground hamburger -- but we are not sure why they wouldn't be.
The burgers are garnished with shredded lettuce, onions and a pickle spear. There are eight different sides to choose from (all $1.99). But what burger doesn't taste better with fries? So we all went with what turned out to be an extremely large basket of shoestring fries.
The burgers arrived and we were all pleased with juicy beef and great flavor.
Greg said, "The flavor was very good. The burgers were seasoned well, but not overpowering. This was one of the better seasoned burgers we have tasted."
Murph had the Bacon Cheddar Burger and said, "It was a very juicy burger and the meat was cooked just right. The burger had a great flavor."
We always hear about Kobe beef from all the different burger aficionados.
So JT zeroed in on the Kobe burger, hoping everything we heard was true.
"The Kobe burger was very tasty and juicy, but $3 more than the Angus, which looked delicious," he said.
With the five of us sitting around prodding and poking our burgers to help tally our scores, our waitress noticed what we were doing and alerted one of the owners.
Ron Zenko came over to the table and said he instantly recognized us from our last Vindy burger review. He then told us a little about the place, saying the Stonebridge Tavern has been in business for nearly two years. Ron added the burger meat they get is the highest grade Angus beef available, always fresh and never frozen, which is evident in the quality burger they serve.
We finished another satisfying burger experience with our shirts still clean and our stomachs full. We would recommend any of these burgers for a great evening out.
Whether you just want to unwind after a long day, relax and catch the game, or have a nice sit-down meal, the Stonebridge Grille helps you to forget your troubles when you kick back with one of these delicious gourmet burgers.
More like this from vindy.com