Remediation high among district grads
By Denise Dick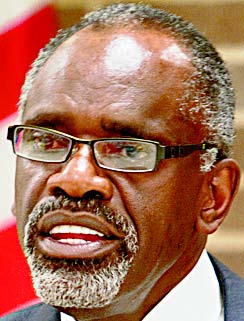 Photo
Youngstown
A report from the Ohio Board of Regents shows a high percentage of city school graduates who attended college had to take remedial college courses.
The report, from 2009 but released last August, shows that 72 percent of Chaney High School graduates, 83 percent of East graduates and 38 percent of Youngstown Early College graduates took either developmental math or English in college.
The percentages were highlighted in February during a city schools Academic Distress Commission meeting.
"We have to make sure we have rigorous instruction and make sure kids are prepared to meet the challenges at the university," city schools Superintendent Connie Hathorn said.
He questions whether the standards being taught in high schools match what's required by college and universities.
The problem isn't exclusive to Youngstown.
Nearly 62 percent of first-time undergraduates at Youngstown State University last fall took at least one developmental course.
The Ohio Board of Regents report shows that about 53,000 recent Ohio high school graduates enrolled in Ohio public colleges and universities in fall 2009.
"The percentage of students that continue their studies after high school is a positive development, but a large proportion of them are not prepared for college-level work either in mathematics or English," the report said. "Forty-one percent of those college freshmen enrolled in at least one developmental course in their first year of college."
An additional 34 percent enrolled in developmental math courses, and 19 percent enrolled in development English courses, the report found.
The OBR shows that 72 percent of Campbell Memorial High School graduates and 80 percent of Sebring's McKinley High School graduates took development math or English.
Those percentages were lower for Canfield, Poland and South Range graduates at 32 percent, 40 percent and 39 percent, respectively.
The report doesn't include information on remediation for students who attend college either out-of-state or at a private college or university.
Ohio Chancellor Jim Petro points out that students who take remedial college courses not only have to pay for them, but it also means they'll be in college longer.
"We have to make sure they're ready for college before they graduate from high school," he said recently. "My goal is really all about completion. Right now we've not done well."
If a student is in college for a longer time, they're more likely to drop out without securing a degree, Petro said.
The regents' report says that among full-time students pursuing a bachelor's degree, 34 percent of those who took developmental coursework their first year earned a degree within six years. That compares with 69 percent for students who didn't take developmental courses.
Stan Heffner, state superintendent of public instruction since July 2011, talked about the problem during a November speech at the Mahoning County Career and Technical Center.
The skills kids need to secure good jobs are the same as those needed to get into college, but students aren't getting those skills in schools, he said.
Schools have been playing by the rules set by the state, the state superintendent acknowledged.
"The problem is we've been asking them to do the wrong thing," he said.
More like this from vindy.com