YOUNGSTOWN
Romney Visits Youngstown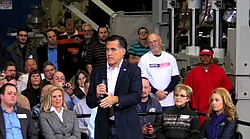 Video
Mitt Romney visited Youngstown today.
Mitt Romney in Youngstown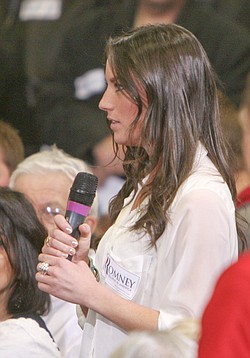 Gallery
With 10 states, including Ohio, holding primaries or caucuses today, known as Super Tuesday, the Republican presidential race is likely to have a clear front-runner when the results are tallied.
Ohio is seen as the most important of the 10 with the two top Republican candidates, Mitt Romney and Rick Santorum, spending the past three days campaigning throughout the state, and polls showing a statistical dead-heat between the two in Ohio with Romney on the rise in recent days.
One of Romney's Monday stops was a 45-minute town-hall forum at Taylor-Winfield Technologies, a metalworking-machinery company in Youngstown, one of the state's most Democratic cities, on the day before Super Tuesday.
A standing-room-only crowd of about 500 people packed the company's plant for the late morning-early afternoon Romney event. It was the only visit by any of the four GOP presidential candidates to the area.
At Monday's event, Romney spoke for about 10 minutes and took questions for about 30 additional minutes.
Romney didn't mention the three other Republican presidential candidates — Santorum, Newt Gingrich and Ron Paul — by name, focusing most of his attention on President Barack Obama, the Democrat seeking re-election.
"This is a failed presidency," Romney said of Obama. "He's a nice guy, but he's in over his head."
Romney, a veteran of town-hall meetings, was at ease answering 11 questions from audience members.
When asked a question from a Delphi salaried retiree about the loss of her health-care and life-insurance benefits, and a cut in her pension, Romney took the opportunity to explain his opposition to the Obama-supported 2009 bailout of General Motors and Chrysler.
"Don't give them a bailout; have them go through a managed bankruptcy," Romney said.
The Republican added that he didn't know the specifics of the Delphi salaried employees issue.
In response to a question from a high school senior about the cost of college, Romney said tuition is "expensive," people should shop around for the best price, and students could save money by taking more classes to get a four-year bachelor's degree in 2 1/2 years.
Romney suggested joining the military as a "way to get college for free."
The former Massachusetts governor also said he'd repeal the health-care-reform act, called "Obamacare" by its critics, and to keep Social Security solvent, he'd propose raising the retirement age by a month a year, beginning in 2022, until two years are added.
At the beginning of Romney's speech, he said, "Youngstown, you're fighters. Been through tough times, you come through well."
He then introduced his wife, Ann, calling her "the heavyweight champion in my life." Realizing the reference was awkward, Romney said, "That didn't come out right. She is a great fighter, that's what I meant."
His wife helped cover by saying, "If this goes on much longer, I will be the heavyweight champion."
If Romney emerges as the Republican presidential nominee, the race will go on to the November general election.
Near Taylor-Winfield, about 15 people showed up to protest Romney.
At a press conference at the United Auto Workers Local 1714 hall in Warren after Romney's visit, Mahoning County Democratic Party Chairman David Betras thanked the Republican for coming to Youngstown because he said it "bolstered President Obama's re-election chances."
Betras attacked Romney for previously saying he would "let Detroit go bankrupt," a reference to the bailout.
"He has no idea how it is to work on a line," Betras said. "He's willing to say anything to get elected."
Betras said the Lordstown GM plant would have been "mothballed" along with the "thousands of other spinoff jobs" created by the plant had Romney been president at the time.
"I'm glad Mr. Romney is here [Monday] so we can remind voters just how wrong and wrong-headed he is," said Dave Green, president of UAW Local 1714.
The reception for Romney at the rally was considerably warmer.
Lifelong Democrat Michele Bolchalk of Warren said she's voting for Romney.
"I think he's the best person to turn around the economy and get a balanced budget," she said. "He's worked in the private sector, he turned around the Olympics and been governor of a state. He's willing to make tough decisions."
Among those in the audience were about 75 students from Austintown Fitch and Lordstown high schools. Some, such as Hanna Steinker, a Fitch senior, will vote for the first time today.
She is thinking of voting for Romney or Santorum.
"He's very different than my first opinion of him," she said of Romney. "I first thought he was arrogant. But I don't think that anymore. He answered the questions correctly. It was eye-opening to see real life rather than on TV. I'm leaning more toward Romney mainly because of what he said about education and bringing businesses here."
Even with the Republican presidential primary and a few county races of interest, turnout is expected to be very light in the Valley, says election officials in Mahoning, Trumbull and Columbiana counties. Turnout in the counties is expected to range from about 30 percent to 35 percent.
The races of interest in Mahoning County are Democratic primaries for prosecutor, sheriff and a commissioner's seat being vacated by John McNally IV. In Trumbull County, there's a Democratic primary for sheriff, and Democratic and Republican races for the 64th Ohio House District.
Contributor: Karl Henkel