Volunteers toil to restore veteran's N. Side house
YOUNGSTOWN
Clean-up day at Rik Blake's home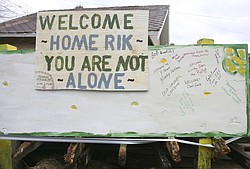 Gallery
North side resident Rik Blake, joined by about two dozen neighborhood and community members spent their Saturday working on his new home, which he recently purchased from Craigslist, only to find it completely uninhabitable.
Dozens of people braved the cold, wind and snow flurries Saturday to help a newcomer to the city's North Side.
The Crandall Park South Neighborhood Association organized "Youngstown Neighbors For Neighbors," a work day at the home of Rik Blake, 49, who moved to 404 Lora Ave. Feb. 23 from Hermosa, Calif.
Blake had purchased the home sight-unseen and found it stripped, with the electric, gas and water turned off when he arrived.
"It's awesome to see all this," said Connie Lauderdale, a contractor who lives in a house behind Blake's and helped organize the work day.
Volunteers stayed for hours, and many people stopped by to drop off food, water, coffee and other donations.
"We are focusing on getting all the broken windows replaced and getting the doors hung up. We're cleaning up the property," said Don Sluder, a volunteer from New Castle, Pa.
The priority was to make sure Blake's home is secure and has heat, Sluder said.
"People see what you're doing, and it's helping set an example," he said of the cleanup.
Peggy Gurney, president of Cochran Park Neighbors on the city's South Side, said it was inspiring to see so many people rally together.
"It really is neighbors helping neighbors and from all sides of the city. Many saw the [Vindicator] article and wanted to help," she said.
In addition to individuals' efforts, several local businesses donated, including C&V Wholesale, Youngstown Plumbing and Hardware, YESCO, Allied Waste, Banner Supply, Vinylume Windows, Rental Corral on Gypsy Lane, Pizza Joe's on Gypsy Lane, O'Donold's Irish Pub & Grill and Kravitz Deli. T-shirts were provided by Unique Biker Apparel.
The man at the center of Saturday's effort moved among different areas of the house and was often waved over to the driveway by people who wanted to meet him.
"The entire community has come together to make my house a home," Blake said, adding it all started with his neighbors Jeffrey King, who contacted The Vindicator, and Steve Henderson, who donated firewood to him last weekend. Henderson was at Blake's house Saturday, cutting up debris with his chainsaw.
Blake, who recently got a job in the city, said plumbing and electrical work will begin this week and that he's keeping a growing list of names and donations so he can thank them again.
"I'm not going to accept more than I need and I have a plan for the house now: I'm going to live on the third floor and I want to use the four rooms on the second floor for homeless veterans," said Blake, himself an Army veteran.
As he spoke, a woman handed Blake a card that someone had dropped off. He pulled the card out of the envelope, opened it and smiled. The inside of the card read: "God Bless Your New Home."