Union all-stars take on Steelers in basketball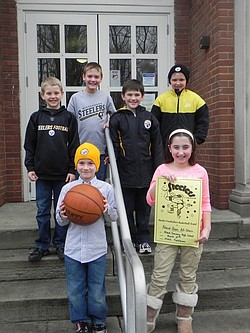 Photo
Union students have been prowling their halls lately dressed in black and yellow to show their love for the Steelers. The color combination shows their excitement for the upcoming basketball game between Steelers players and Union staff and community officials. Students showing their pride on Feb. 22 were, from left, Aiden Thompson (front), Camryn Lattanzio, Nathan Scheck (back), Jake Rutana, Nathan Hayes, and Alec Martin.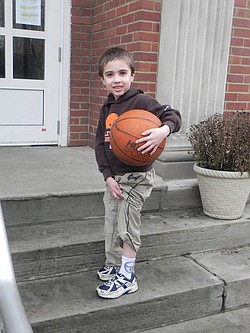 Photo
Neighbors | Sarah Foor .Although Union student Parker Gromen was showing his love for the Browns on his sweatshirt, his socks still showed his pride for the Steelers. Gromen said he'll be wearing his socks at the March 15 game between the Union staff and Poland officials in their face off with the Steelers Footballers Basketball Team.
By SARAH FOOR
In the halls of Union Elementary, a trend of wearing black and yellow has grown in popularity among staff and students. The color combination, while fashionable, also shows the growing excitement for the upcoming basketball faceoff between Union All-Stars and members of the Pittsburgh Steelers football team on March 15.
The March game will take place at Poland Seminary High School's fieldhouse so the event can entertain more than 1,000 fans. Six to 10 Steelers athletes are slated to attend the event and tickets are selling at the bargain price of $7 per person.
"It's a really unique chance for Union students and Poland residents to meet professional athletes. They'll be signing autographs and working with the crowd during halftime, which is a lot different than most other games guests might attend. I hope to see lots of people in Steelers gear, getting fired up and waving their 'terrible towels,'" said Union principal Mike Masucci.
A major draw for most Union students will be the team of Union All-Stars, consisting of school staff, leaders in the Poland community and Masucci.
In a letter sent home to parents about the event, the principal looked forward to his performance in the game, promising "I will miss several jump shots because I do not want the Steelers players to become intimidated."
Masucci said the help of Poland athletic director Brian Banfield has been integral in the organization and preparation of what he hopes will be a well-attended event. Tickets for the game can be purchased at Union Elementary during school hours, 8:30 a.m. to 3:30 p.m.
All of the funds raised at the event will provide for school projects benefitting Union students.
More like this from vindy.com