Dobbins daughters dine with dads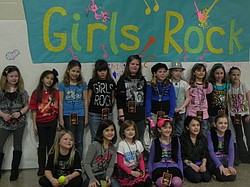 Photo
Neighbors | Sarah Foor .A group of Dobbins girls exclaimed that "girls rock" during their Dad-Daughter dance on Feb. 23.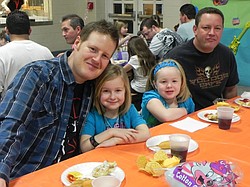 Photo
Neighbors | Sarah Foor .Along with crafts, photos, and a rock and roll show, families at the Dad-Daughter dance at Dobbins on Feb. 23 enjoyed a yummy meal together as well. Enjoying their feast were, from left, Wes Smeek, Keeley Smeek, Ella Gaffney, and Bill Gaffney.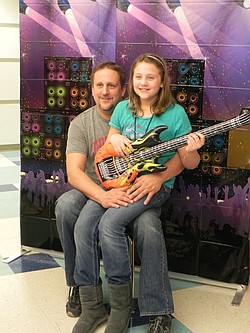 Photo
Neighbors | Sarah Foor .Jeff Johnson (left) enjoyed the roar of the crowd as he took a commemorative photo with his fourth-grade daughter Lauren Johnson (right) during the Feb. 23 Dad-Daughter Dance at Dobbins.
By SARAH FOOR
Dads and daughters gathered at Dobbins Elementary on Feb. 23 to celebrate girls that rock. It was part of the biannual Dad-Daughter Night hosted by the school's PTO.
"Each year, we try and offer an event where our Dobbins students can spend a special night with their dads, and each year switches between daughters and sons. The students, and especially our girls today, love showing their dads around the school and sharing an event just for them," said principal Cheryl Borovitcky.
The school was a playground for the dad-daughter duos. When families entered, Dobbins girls were given personalized "backstage pass" lanyards. In the school's all-purpose room, the PTO offered a free dinner and a show by "Hey Kid," a local band for kids. Along the wall of the room, a fresh white banner was displayed and Dobbins girls were invited to leave their rock star signatures and messages of love for their dads.
Back near the school's activity room, officials from the PTO took photos of dads and daughters in front of a backdrop showing a roaring crowd. The families then decorated a foam photo frame where they could show off their picture.
The event was full of fun, but it still gave dads and daughters plenty of chances to voice their appreciation and love for each other.
"My dad is the best because he's really funny and we go out to dinner a lot together," said Dobbins student Ella Gaffney about her dad, Bill.
"I like when we get to watch football together," added Keeley Smeek, referencing her dad, Wes.
More like this from vindy.com