What you need to know about health care now
Staff/wire reports
The Supreme Court upheld the constitutionality of President Barack Obama's health care law Thursday, includi
Affordable Care Act Decision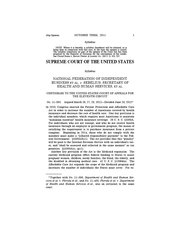 Document
US Supreme Court Document in the case of the National Federation of Independent Business vs. Sebelius, Secretary of Health and Human Services.
ng the most disputed part: the mandate that virtually all Americans have health insurance or pay a fine.
The mandate was upheld under the federal government's power to levy taxes. Here's a look at the ruling upholding the Affordable Care Act:
The ruling
The ruling put some limits on the law's plan to expand the Medicaid insurance program for the poor, a joint effort of the federal government and states.
It says the U.S. government cannot threaten to withhold a state's entire Medicaid allotment if it doesn't participate in the expansion.
President Obama said, "I know there will be a lot of discussion today about the politics of all this, about who won and who lost. That's how these things tend to be viewed here in Washington. But that discussion completely misses the point.
"Whatever the politics, today's decision was a victory for people all over this country whose lives will be more secure because of this law and the Supreme Court's decision to uphold it."
ABOUT THAT MANDATE
Many parts of the law have proved popular. But the insurance mandate is widely disliked.
Each time AP has asked in polls, more than 8 in 10 Americans have said the government should not have the right to require everyone to buy health insurance.
The public also has tilted against the law as a whole over the two years since it was passed. About half opposed it and a third were in favor in a poll shortly before the Supreme Court ruled.
WHAT IT MEANS TO ME?
The Supreme Court decision affects nearly every American. The law tells almost everyone they must have health coverage and guarantees it will be available to them even if they are already ill or need hugely expensive care.
It helps the poor and many middle-class people afford coverage.
"I just don't believe it's a good plan," said Rick Rinko, a retired shipping worker from Girard. "It doesn't fit in where we are going at all."
Many college students and young workers approached in the Youngstown area Thursday were not quite sure about the law.
If one thing is for sure, there is an air of uncertainty surrounding the purchasing mandate and what it means for individuals.
"It would be nice to have insurance because I don't go to the doctor very often," said Sahad Awad, 25, of Liberty as she sat scrolling through pictures on her smartphone with a group of friends at the Boardman Starbucks. "But I have no idea what it means that, 'I have to purchase it.' I can't. It'll cost too much."
As a stipulation of the health care law, beginning in 2010, many of the country's youths were allowed to stay on their parents plan until they are 26. For Awad, it wasn't an option. Her "parents simply could not afford it."
Another of Awad's friends, Sam Mhawesh, 23, of Boardman, said he also was without insurance.
"I can't go to the doctor, it costs too much," he said.
Mhawesh complained of a toothache he's had for months. He said just to have it examined at a local emergency room cost him $184. Although he currently works, Mhawesh doesn't know if he'll be able to afford the insurance required under the mandate, or even what steps he is supposed to take to meet it.
WHAT THE JUSTICES SAID
The high court upheld the mandate that virtually all Americans have health insurance or pay a fine. The court said that fine is essentially a tax, and that's why the government has the power to impose it.
The ruling limited the law's plan to expand the Medicaid insurance program for the poor, a joint effort of the federal government and states. It says the U.S. government cannot withhold a state's entire Medicaid allotment if it doesn't participate in the expansion.
Chief Justice John Roberts sided with the court's four liberal justices — Stephen Breyer, Ruth Bader Ginsburg, Elena Kagan and Sonia Sotomayor — to form the 5-4 majority.
POLITICAL IMPACT
Final word from the court amplifies the most polarizing issue of Obama's re-election campaign against Republican Mitt Romney.
Romney said, "Obamacare was bad law yesterday. It's bad law today. If we want to get rid of Obamacare, we're going to have to replace President Obama."
GOP lawmakers and Romney have promised to repeal the law if they are in power after the November election.
U.S. Rep. Bill Johnson of Marietta, R-6th, and his Democratic challenger, Charlie Wilson of St. Clairsville, who are deadlocked in one of the nation's most-competitive Congressional races, quickly released statements on the decision.
"This disastrous law is full of broken promises covered in empty political rhetoric that continue to make our economy worse," Johnson said, adding he will work for repeal of the law.
"Over 40 percent of small businesses are saying that this law is keeping them from hiring and expanding. The cost of this law has surged to almost $2 trillion, and doctors are already limiting the number of patients they are seeing," he said.
"Here's the good news for the people of eastern Ohio: The doughnut hole is closed; the costs of prescription drugs are lower, and families can keep children on their parents' plan until the age of 26," Wilson said.
Wilson, however, tempered his remarks by adding: "This law is not perfect, and I look forward to working with members of both parties to improve the law by giving states more flexibility to innovate, to hold down costs and to help small businesses spend less on health care and more on creating jobs."
Ohio's former Democratic governor said the Republican opponents risk alienating Americans who will benefit from the changes. Ted Strickland, an Obama campaign co-chairman, also called on his Republican successor's administration to get moving on a state health care exchange under the law.
Gov. John Kasich and Lt. Gov. Mary Taylor issued a statement saying they were analyzing a court ruling they found disappointing and are concerned about dramatically higher costs it could mean in the state for Medicaid and other coverage.
"This matter will now be fought out in the political arena, again," said Attorney General Mike DeWine, a Republican.
BUSINESS REACTION
The ruling could force companies to make some tough decisions about how to handle rising health care costs, said Joe Bell, director of corporate communications for the Cafaro Co.
"The act doesn't do anything about the root cause of rising health care costs. It simply spreads the costs around to constituents and to businesses," he said.
Now that the decision has been made, businesses simply need to find a way to implement it, manage it and embrace the change, said Thomas Humphries, president and CEO of the Youngstown/Warren Regional Chamber.
There have been some small companies locally that have benefited from the Affordable Care Act, said Paul M. Dutton, a business lawyer at Harrington, Hoppe & Mitchell. The law allows small companies to receive a rebate from the government for continuing health care levels.
"I had one client, a cemetery in the city of Youngstown, that received a check for $23,000 for maintaining the same very good level of insurance," he said.
WHAT NOW?
The 2010 health care law will keep taking effect. It's expected to bring coverage to about 30 million uninsured people. Overall, more than 9 in 10 eligible Americans will be covered.
Some parts are already in effect: Young adults can stay on their parents' insurance up to age 26. Insurers can't deny coverage to children with health problems.
Limits on how much policies will pay out to each person over a lifetime are eliminated. Hundreds of older people already are saving money through improved Medicare prescription benefits. And co-payments for preventive care for all ages have been eliminated.
"We look forward to providing essential health services for more members of our community as coverage expands; and we are also pleased that expanded coverage will reduce the burden of uncompensated care on our hospital and others across the nation," said David Fikse, chief executive officer of ValleyCare Health System of Ohio, which includes Northside Medical Center in Youngstown, Trumbull Memorial Hospital in Warren and Hillside Rehabilitation Hospital in Howland.
"Expanded coverage will help to ensure that hospitals are reimbursed for services they provide, making our nation's health care system stronger for the benefit of everyone," Fikse added.
WHAT'S NEXT?
Starting in 2014, almost everyone will be required to be insured or pay a fine. There are subsidies to help people who can't afford coverage. Most employers will face fines if they don't offer coverage for their workers. Newly created insurance markets will make it easier for individuals and small businesses to buy affordable coverage. And Medicaid will be expanded to cover more low-income people.
Insurers will be prohibited from denying coverage to people with medical problems or charging those people more. They won't be able to charge women more, either. During the transition to 2014, a special program for people with pre-existing health problems helps these people get coverage.
An assortment of tax increases, health-industry fees and Medicare cuts will help pay for the changes.
The health care overhaul focus will now quickly shift from Washington to state capitals. Only 14 states, plus Washington, D.C., have adopted plans to set up the new health insurance markets called for under the law.
Called exchanges, the new markets are supposed to be up and running Jan. 1, 2014. People buying coverage individually, as well as small businesses, will be able to shop for private coverage from a range of competing insurers.
STILL UNCOVERED
An estimated 26 million people will remain without coverage once the law is fully implemented, including illegal immigrants, people who don't sign up and choose to face the fines instead, and those who can't afford it even with the subsidies. That number could be higher, depending on whether any states refuse the Medicaid expansion.
PRICE TO PAY
In 2016, after the law is fully in place, about 4 million people will pay the penalty to the Internal Revenue Service for being uninsured, the Congressional Budget Office has estimated.
They would pay $695 per uninsured adult or 2.5 percent of family income, up to $12,500 per year.
The IRS can't prosecute violators or place liens against them, however. Its only enforcement option may be withholding money from refunds.