Poland Library prom brings out the dancing dead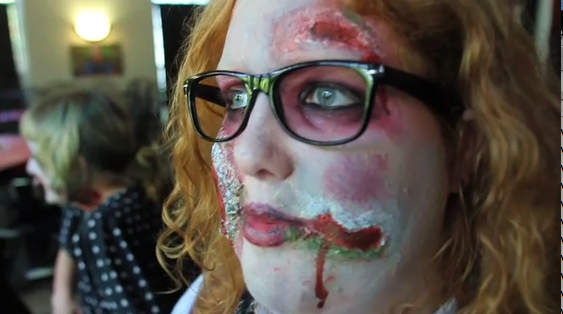 ---
Zombie Prom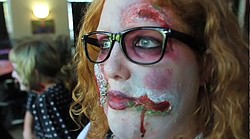 Video
A Zombie Prom for teens was held at the Poland Library.
POLAND
Breanna Keever spent hours preparing for her prom appearance, applying lipstick and eye shadow — along with a little liquid latex and tissue paper.
The 17-year-old artfully smeared the cosmetics and paper on her face, neck and arms to achieve an "undead" look, complete with mottled and peeling skin, an appropriate look for Zombie Prom.
The sounds of thunder and howling wind whipped not around but within the Poland Branch library Thursday night as about 50 teens danced at Zombie Prom, whose theme was "Eat Your Heart Out."
The prom was part of the "Own the Night; Beware the Night" summer-reading program for teens in grades 7-12.
Breanna, of Boardman, learned about Zombie Prom while checking out books at her local library earlier this summer.
"It's awesome that the library has a program like this," she said.
She brought her friends Austin Bayer, 17, of Boardman, and Scotty McMaster, 17, and Rayne Blakeman, 15, both of Youngstown.
"It gives us something to do in the middle of summer," Scotty said.
Lucy Jones, 15, of Youngs-town donned a long, black evening gown that she had purchased from Goodwill — she said it reminded her of Morticia Addams' outfits from the Addams' Family sitcom and movie — and attended the dance with Patrick Clifford, 16, of Girard.
"I took my inspiration from zombie movies, like 'Dawn of the Dead,'" Lucy said.
The library wanted to capitalize on the popularity of zombie films and books, many of which are available in the library catalog, for the teen summer reading event, said John Waller, a teen librarian for the Public Library of Youngstown and Mahoning County.
"We find a lot of teens get lost [from the library] when they hit the teenager years. ... We want to bring them in with activities and have them stay," Waller said.
The prom featured a ghoulish-looking DJ, photo booth, refreshments shaped like brains — the staple food of zombies — and plenty of games and activities, such as creating corsages and boutonnieres from paper flowers, plastic cockroaches and mock severed fingers.
As purple and red lights swirled on the dance floor, Breanna and her friends looked around the room, trying to decide what to do first.
"I'm really excited for this," she said.
Teens and children are still able to sign up for summer reading at their local library branch. The program runs through Aug. 11.