At Girard hot dog shop, some relish health ruling; others grill it as unjust
SEE ALSO: • What you need to know about health care now
• YSU students offer variety of views on law's mandate
• Business, union leaders react to ruling
• Hospital stocks jump sharply on court decision
• Health providers throughout Valley applaud 5-4 ruling
• Area politicians toe party lines in reactions to ruling
• President wins in the high court
By Danny restivo
drestivo@vindy.com
GIRARD
Affordable Care Act Decision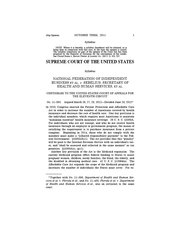 Document
US Supreme Court Document in the case of the National Federation of Independent Business vs. Sebelius, Secretary of Health and Human Services.
Lunchtime can create a boisterous atmosphere at the Jib Jab Hot Dog Shoppe.

The environment was a perfect setting for customers to share their sentiments after the Supreme Court ruling to uphold President Barack Obama's Affordable Care Act.
"I think less government is the way we are supposed to be," said Pam DeGenaro, a Girard native and manager at a private tax service.
"It started with seat belts years ago, and they mandated that, now it's cigarettes and now it is you have to buy health care, so I think the government has overstepped its boundaries."
Travelers stopping in from nearby Interstate 80 and workers from the area create a diverse scene in the afternoon at the eatery. It allowed for an engaging "Obamacare"
discussion.
"I guess it's good for the people who don't have it, if it doesn't change for the people who do have it," said Judy Takach, a retired librarian from Youngstown State University. "I guess we will see how it plays out. We won't know until it's all in place."
"As far as the universal health care, I guess my issue is what exactly are the co-pays going to be?" said Rob Rodgers, a union pipe fitter who works in Girard. Rodgers has seven children and is curious to see how much will be taken out of his paycheck now.

"Every hour I work it's almost $9 that goes towards my health care," he added.
"I really like the idea of people having insurance, especially for their children, if they have some kind of a problem that would otherwise exclude them from it, but I worry what it's going to do for Medicare and for the deficit," said Nancy Manente, a retired General Motors Co. worker from Mineral Ridge.
"I got to raise prices to cover this," said Jib Jab part-owner Jack Doverspike. "For us small [business] guys, it really hurts. Big corporate chains are different.
"I'm a small guy. It depends on how many employees they are going to put me under and how they are going to write it, but ... it's going to hurt."
Others believe the ruling will improve the country.
"I'm not saying the law is perfect, but even if it gets refined or changed over time at least something is happening," said Jason Tingler, a Hubbard native and a Ph.D. student studying genocide studies at Clark University in Massachusetts.
Some are still angry they will be forced to buy health insurance.
"That is wrong, and we will see all of them [politicians] in November," said a Pittsburgh resident who's looking forward to the upcoming election.