Eight more juniors qualify for Greatest Golfer of Valley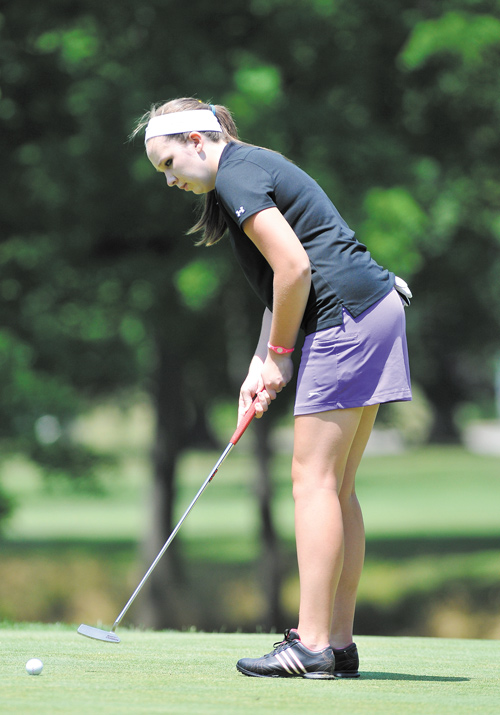 ---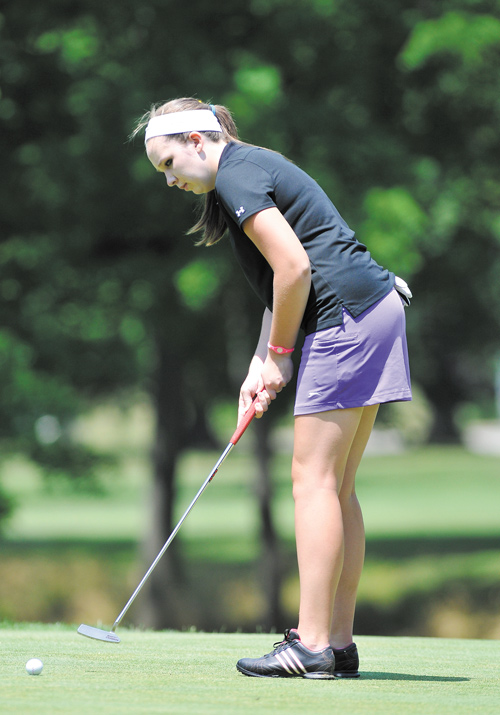 Photo
Rosy Hearns watches her putt during her round at Wednesday's qualifier for The Vindicator's Greatest Junior Golfer of the Valley tournament at Tam O'Shanter. Hearns shot a 78 to win the girls' 15-17-year-old division.
By Ryan Buck
HERMITAGE, PA.
The Vindicator's Greatest Golfer of the Valley presented by Farmers National Bank made its fourth stop in the qualifying rounds Wednesday, sending the junior competitors to Tam O' Shanter of Pennsylvania.
Eight players emerged from a strong field of 41, which featured six returning qualifiers and a talented collection of first-time entrants. The top two scorers in the four groups of boys and girls are eligible for the Greatest Golfer finals held July 21st at Trumbull Country Club.
Sisters Rosy and Abby Hearns, of Hermitage, took the top spots in their respective groups in their first tournament appearances.
"I made a lot of up- and- downs today," Rosy said of her round of 78, good for first in the 15-17 age group. "My drives weren't as great as I'd like them to be, but I hit a lot of good iron shots on to the green and if I missed I was able to chip on and one- putt."
Rosy was also pleased with her sister's performance. Abby, in the 12-14 competition, moves on to the final round with a 96.
"I was really excited because she's been practicing really hard and she's been following me and she always wants to do as well as me," Rosy said of their relationship. "I'm really excited that she was able to qualify with me and we both took first in our divisions."
Abby, who will join her sister at Hickory High in the fall, relishes the completions they share.
"I feel that I have to beat her someday," Abby laughed. "And I know I will."
Austintown's Rachel Williamson earned the other Finals invitation in the 15-17 divison with an 88. Emily Koehler, of Vienna, grabbed the second spot in the 12-14's.
On the boys' side, scores were tight as four players were within five shots of the lead in the 15-17 group.
Brian Austolash and Jimmy Standohar tied for second place with 77s. Per United States Golf Association rules, Austolash advanced when he bested Standohar's score on the fourth tie-breaking hole on the scorecard.
"It feels really good," Austolash said. "I wish I would have played a little bit better and not had to worry about the playoff, but it feels real good.
"I've played with a lot of these kids in high school and there's a lot of competition. We always went back and forth and butted heads throughout our rounds and it's really tough competition."
Bill Colbert, another Hickory High golfer, paced the elder group with a round of even-par 72. A veteran of many juniors tournaments around the country, Colbert knew consistency was key at Tam O'Shanter.
"I was down the middle of the fairway quite a bit today and I hit 11 of the 18 greens in regulation, which helped," he said. "On the front nine I had two bogeys and a birdie. On the back nine I had two birdies and a bogey. I just had a lot of pars that helped me stay consistent."
Nicholas Braydich and Cade Kreps were the two qualifiers from the boys' 12-14 group. Braydich, a Struthers native, carded an 81 and Boardman's Kreps was close behind with an 84.
The fifth Greatest Golfer of the Valley junior qualifier will take place on two dates next week at Diamond Back Golf Course in Canfield.
Both girls' groups will tee it up Monday and the boys on July 5th.
Tournament information is available at vindy.com/golf and on Twitter @vindygreatest. Also, interested players may call the course at 330-533- 3053.