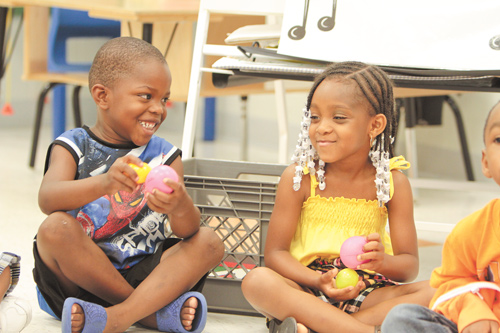 Photo
Jeremiah Payne, left, and Aniya Pilson, both 5, share a few laughs playing with stress balls at a Success By Six event at Williamson Elementary School in Youngstown. The youngsters learned Wednesday what is necessary to become good students and citizens.
By Denise Dick
Youngstown
Children entering kindergarten in the city schools are getting a summer primer for what it means to be good citizens and good students.
The students are participating in Success By Six, a program of the United Way of Youngstown and the Mahoning Valley that prepares children for kindergarten. The PNC Foundation is funding Community Solution's Project KIND program this week.
Project KIND — Keys to Improvement for Necessary Development — focuses on social and emotional skills.
"It's knowledge that takes us from kindergarten to college," Kesha Lampley, one of the program's instructors, told the students Wednesday at Williamson Elementary School.
Jeremiah Payne, 4, learned to sit cross-legged or "criss-cross applesauce" while sitting on the floor, gathered around the teacher.
JaQuan Grant, 5, learned about paying attention in class.
"You sit down and look" at the teacher, he explained.
Kathie Marando, director of prevention and community services at Community Solutions Association, said the program started in 2007, and researchers from the University of Akron have found improvement in children's behavior after completing the program, compared with before.
The program runs for 12 weeks during the school year.
Ryan Pastore, director of client and community relations at PNC, said Success by Six started four years ago with South Range and Campbell as pilot schools and has grown each year.
Earlier this month, the General Motors Foundation announced a grant to extend the program into Niles and LaBrae schools.
In 2011, about 500 children experienced the program that includes 60 hours of instruction and kindergarten readiness from a certified teacher in the building where the child will attend classes in the fall.
"The vast majority of schools in the Mahoning Valley are part of it," Pastore said.
Marando said Community Solutions appreciated the opportunity to partner with PNC to offer the program.
The organization relies on funding from foundations to offer the program during the school year as well. It doesn't receive money from the federal, state or local government to do it, Marando said.
In the classroom Wednesday, Lampley reviewed the "keys to success," using cut-outs of keys to illustrate each concept: respect, manners, smart choices, cooperation and communication.
"Smart choices are when we do things to keep ourselves and others safe," she said.
The lesson covered stranger-danger, doing the right thing and what's safe to eat or drink versus what isn't.
Rhymes, songs and dances accompanied the instruction. As Lampley passed out colored smiley-faced stress balls to the students, she explained that their teachers next year won't be able to ensure each child gets the color that they want.
Lampley instructed them in a new mantra: "You get what you get, and you don't throw a fit," she said.
More like this from vindy.com