Former kennel owner acquitted of latest charges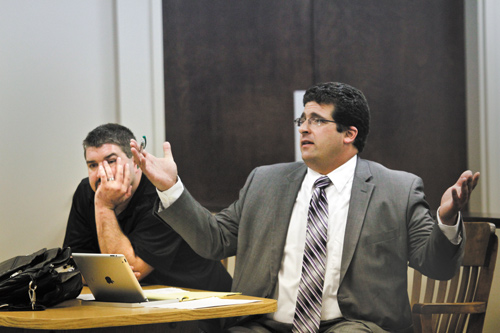 Photo
Atty. James E. Lanzo, right, represents Steven Croley, 41, who was charged with failing to register a dog. Croley was found not guilty of the charge Wednesday in Mahoning County Area Court in Austintown.
By Ashley Luthern
aluthern@vindy.com
AUSTINTOWN
The former owner of High Caliber K-9 Kennel who was found guilty of four counts of animal cruelty in 2008 was acquitted of failing to register a dog.
Steven Croley, 41, appeared in Mahoning County Area Court here to face the minor misdemeanor. Atty. James E. Lanzo represented Croley, just as he did earlier this year when Croley was found not guilty after being accused of violating terms of his probation by having three dogs on the Austintown property where he lives with his wife, Renee McCalpin Croley.
Dave Nelson, field supervisor for the Mahoning County dog warden, was called to the stand Wednesday. He said Renee McCalpin registered the three dogs in June 2010 at the Austintown address, but failed to do so in 2011.
McCalpin registered the dogs Dec. 22, 2011, after receiving a notice on her door from the dog warden's office to provide proof of registration, Nelson said.
The main question at trial was why McCalpin was not issued the citation, if she was the only person to have registered the three dogs.
"Renee McCalpin is the registered owner in 2010 and the next registered owner. ... There's no testimony that [Croley] owned or harbored ... these animals," Lanzo said.
Prosecutor Ken Cardinal concurred, and Judge David A. D'Apolito acquitted Croley.
Before the trial, about a dozen people stood outside the courthouse holding signs and wearing T-shirts in support of House Bill 108, also known as Nitro's Law, named after one of the dogs found starved to death on the High Caliber property.
The bill would make it illegal for kennel owners, managers or employees to abuse or neglect pets in their care and raise the level of the offense to a felony.
"We just really want this law to be passed," said Deborah Clemens, of Upper Sandusky, who was seated in the courtroom.
Krista Smith, of Niles, agreed.
"It happened here in our area. I feel [Croley's] gotten away with so much, like he's above the law," Smith said.
Croley told The Vindicator he felt he was called to work with dogs, but now has a welding job. He maintained his innocence — "I never starved any dogs" — and said he supports Nitro's Law.
Croley, who married McCalpin in October 2010, said he now has a 1-year-old son who is his priority.
"I want to move on with my life," he said.