Classify brine fluid as hazardous material, Hagan urges Kasich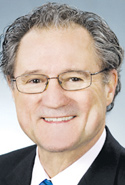 Photo
Youngstown
A Mahoning Valley lawmaker has requested that brine fluid from fracking be classified as hazardous material.
State Rep. Robert Hagan of Youngstown, D-60th, sent a letter Tuesday to Gov. John Kasich making the request. He cites brine testing done in Athens County, Ohio, that was reviewed by Benjamin Stout, a biology professor at Wheeling Jesuit University.
"As I am sure you are aware, Ohio is a popular destination for the disposal of water used in the hydraulic fracturing process," Hagan wrote. "Each year, Pennsylvania pays Ohio over one million dollars to cross state lines and inject their wastewater into the earth. In all, over two million barrels are injected each year from Pennsylvania oil and gas operations."
More inspection of injection wells is important because Ohio is slated to see significant growth in the next few years in the amount of brine fluid that will be injected, Hagan wrote.
The water tested by Stout was taken from a surface-water pit at an injection site. A number of fluids used in hydraulic fracturing were found in the surface water, he said.
"It's some pretty nasty stuff," Stout said.
People who live near these wells should have their water checked nearly daily, he added.
Hydraulic fracturing, or fracking, is the process in which water, chemicals and sand are blasted into rocks thousands of feet below the ground to unlock natural gas and oil.
Any changes to how brine is classified would have to come from the U.S. Environmental Protection Agency, said Heidi Hetzel-Evans, spokeswoman for the Ohio Department of Natural Resources. "Ohio law mirrors the federal law," she said.
If the classification of the fluid were changed, it would result in brine fluid being injected into Class 1 injection wells as opposed to the current requirement of using Class 2 injection wells to dispose of brine, Hetzel-Evans said.
Class 1 injection wells require more-frequent testing and have more-stringent construction requirements compared with the Class 2 injection wells, according to the U.S. EPA. The state has the primary ability to oversee Class 2 wells because the state standards at least meet the federal standards.
"His [Hagan's] request should probably be made at the federal level," she said.
The governor's office said it would allow ODNR to issue any comment for the state.