Published: Wed, June 27, 2012 @ 12:00 a.m.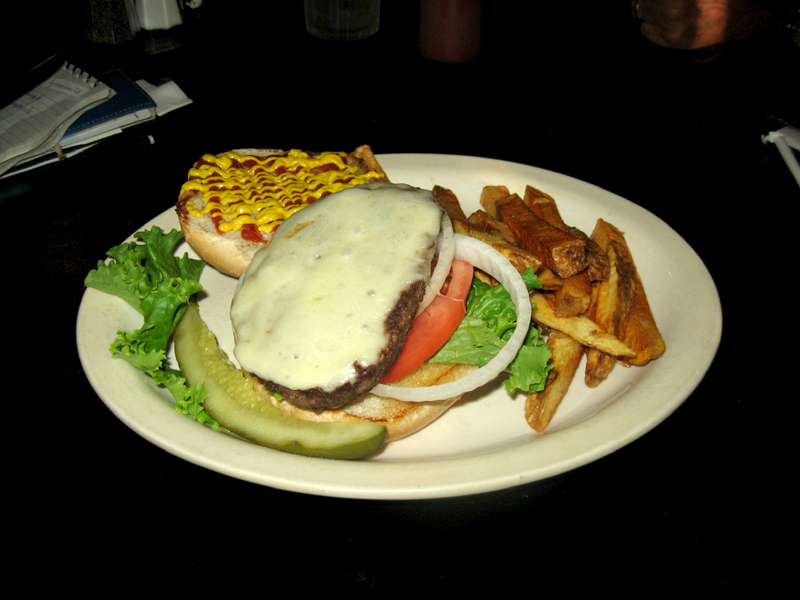 Photo
Sirloin burger from Mason's Steak House & Lounge.
When You Go...
Where:
Mason's Steak House & Lounge
38135 Salem-Unity Road
Washingtonville, OH
Phone: 330-337-0899
Hours:
Tuesday-Saturday 12:00pm – 10:00pm
Menu:
3 burgers ($7.99-$10.99)
Tuesday is Build-Your-Own Burger Night, when you can put any toppings you want on the burger at no extra cost.
Website:
By Anthony M. FUDA
You always hear family and friendly when people refer to their favorite place to eat.
Mason's Steak House & Lounge exemplifies just that. When we went, the seats were never empty, as families paraded in to enjoy the bountiful meals. Owner Mary Ann Mason takes friendly to the next level. It was as if she knew every person that came in that night.
So you have the family and the friendly covered. Next, we were ready for the good food, specifically the burgers.
Our waitress, Taylor Toothman guided us through the cozy restaurant and directed us on our burger journey. She also kept checking to make sure our meals were to our liking and our drinks never emptied — which we watched all the waitresses do with their tables.
The menu offers three quality sirloin burgers, which is really reflected in the taste: Regular Burger (1/3 pound), Larger Burger (1/2 pound), and the Mason's Deluxe (1/2 pound with ham, bacon, cheese and the works). A handful of thick-cut fries accompany the burger. And you can top the burger - actually bottom it, because the condiments (ketchup, mustard, mayo, relish) went on the top bun, and the lettuce, tomato and onions were underneath the beef on the bottom bun. You could also add a nice melted American or Swiss cheese. The toppings are so fresh you think they just picked them from the garden earlier in the day.
The buns are brought in from Pesce Bakery in Youngstown, and they really added to the burger. They were toasted to perfection with a little hint of garlic butter, and kept the flavor of the beef sealed inside.
We all ordered a Regular Burger with our preferred choice of toppings: American versus Swiss, ketchup and mustard or mayo, but stuck firm on lettuce, tomato and onions, with a pickle on the side.
Scott had a Regular Burger with Swiss cheese and said, ."This was a very good quality of beef and you could tell with each savory bite. It just kept getting better and better until I looked down and it was gone."
I had the Regular Burger with American cheese and enjoyed the flavor and tenderness of the beef. It was cooked just right, and with the crisp toppings on the perfectly toasted bun, made for a memorable burger.
Mary Ann sat with us after our meal and told us how she and her husband Chris bought the place in 1998, and waited a year to open so they had everything just the way they wanted. The eatery is adorned in a very nautical theme, as the model boats and sea pictures cover all the nooks and crannies in the place. It feels like you are invited to go sailing with the Mason's, which they do when they get time to relax. If you think there is a homey feel to the restaurant - you're right - because the Mason's live right above.
JT said, "Mary Ann (Mason) is really a great host. I thought because we are "The Board," she was giving us special treatment, but then I saw her stopping at each table, giving them all personalized attention! She has definitely found her calling in the food service business. Her customers love her!"
Mason's has the family friendly part of the restaurant covered because of Mary Ann's hard work and dedication to bring quality food and friendly service to Columbiana County. When you go, Mary Ann will be waiting for you with a welcoming smile and a plate full of delicious food.
If you visit around Christmas, you can see her Nutcracker setup. Each year she takes down the nautical decorations and puts up more than 300 nutcrackers throughout the restaurant.
3 1/2 stars
Keep sending us your great burger suggestions and telling us where those hidden gems are by dropping an email to mvbrb@hotmail.com.