Official: Massage parlors out of business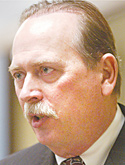 Photo
WARREN
Eight massage parlors have effectively been put out of business here, said city Law Director Greg Hicks.
In out-of-court negotiations that settled the city's nuisance complaint, the parlors have agreed to surrender their operating licenses, remove their identifying signs and not reapply for a license for at least a year.
The parlor operators will be allowed to remove their belongings, and owners of the buildings they occupied will be permitted to rent the premises to other tenants.
"We're happy to announce that all eight of the spas are closed and will remain closed," Hicks said Monday. However, he added: "That property owner can rent to a viable, decent tenant. I don't want empty buildings. I want tax-paying tenants."
The eight parlors were closed after a May 30 raid on them that followed a yearlong Ohio Bureau of Criminal Identification and Investigation probe, which Ohio Atty. Gen. Mike DeWine said uncovered prostitution and, possibly, human trafficking.
The negotiated agreement eliminated the need for a hearing before Judge W. Wyatt McKay of Trumbull County Common Pleas Court.
"It starts the clock on their one year of not being in business," Atty. Harry DePietro of Girard, who represents the operators of Fantasy, Tokyo and Moon Night spas, said of the benefit of the agreement for his clients. "It allows them to get personal belongings that have been locked up, such as their own clothing," he added.
"I also thought that it was probably a good idea not to have on the [court] record what the city might have wanted to put on the record at this time because of the impending criminal charges which we all believe are about to come," DePietro explained.
"In reality, obviously, I think the [city] board of health would look at any reapplying for a license with somewhat of a jaundiced eye on the individuals involved here today," Hicks said of the prospect of any of the eight parlors eventually reopening.
The county has given 15 reported customers of the establishments, who had been subpoenaed to testify had there been a hearing, immunity from prosecution, Hicks said.
The alleged customers, who reside throughout Northeast Ohio, were identified by law enforcement videotaping near the parlors.
Any further legal action concerning the parlors or their operators is up to county, state and federal officials, Hicks said.
Two additional massage parlors, which are not among the eight listed in the nuisance complaint, are still under investigation, Hicks said, declining to name them.
During the raid, investigators said they found hundreds of unused condoms in large plastic bags stored under a false floor in a closet at one parlor.
Used and unused condoms were found at other parlors, and sex toys and more than $90,000 in cash were confiscated, investigators said.
"When you drive into town, you see these signs up there for massage parlors and so forth. It just gave a seedy look to the area, and so, it was important to us, as part of any agreement on this, that the signage had to be removed," Hicks said.
"You should see them coming down within days," he said of the parlor signs. "Let's start dressing up the appearance of our city again," he concluded.