Published: Tue, June 26, 2012 @ 12:04 a.m.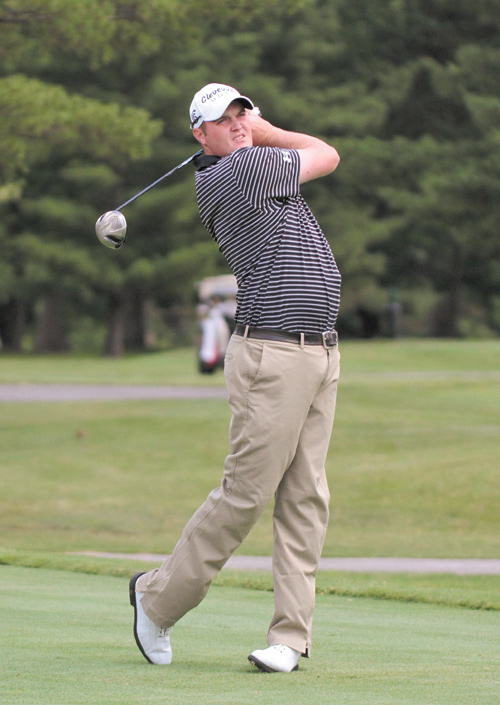 Photo
PGA Tour rookie Jason Kokrak watches his drive during Monday's Greater Western Reserve Boy Scout Council's Link's Classic fundraiser at Trumbull Country Club.
WARREN
Seeing mothers and some of their children in strollers at the Trumbull Country Club driving range was much more out of place than the sight of Jason Kokrak at the tee.
But there was nothing foreign about the attention paid to the PGA Tour rookie who was making an appearance at the course where he played high school golf for Warren JFK.
The willing golf pro's tips and the appreciative spectators were a perfect fit.
The junior clinic was the beginning of a day set aside for a good cause, too: the Boy Scouts of America's Greater Western Reserve Council Links Classic.
"This outing, primarily, benefits scouting in Trumbull and Mahoning," said Patrick McFall, the agency's district director for Trumbull County and part of Portage. "We're here to develop leadership and character and Jason believes in those same qualities."
Monday's event at TCC included 24 teams — an increase over the 14 that entered last year.
"I think it's attributed to Kokrak's involvement and moving back," McFall said of a more central location than Oak Tree in West Middlesex, Pa., in recent years.
Kokrak's demonstration included using a 6-iron and a 3-iron at various distances and locations before pulling out his deadly driver, with which he blasted six balls that a dozen youngsters hunted down some 300 yards away.
Those six who retrieved a ball got an autographed golf cap as a reward.
"To bring the Boy Scouts event back to Trumbull where I've watched Jim Furyk and Blaine McCallister and to be part of this day is an honor," said the 27-year-old Kokrak, who just won $10,560 in the Travelers Championship in Hartford, Conn.
"It's a pleasure to come back here. It's my hometown and, hopefully, I've done an OK job so far and look forward to continuing my work to put Warren on the map as one of the good cities."
Last Friday, Kokrak survived a 36-hole cut with a birdie on his last hole, but missed a 54-hole cut by three following a third-round 72 on Saturday.
Kokrak and several others wouldn't have made the initial cut if one of his buddies, Charlie Beljan, had made a birdie putt on 18.
"Because Charlie missed it and made par, all the guys at even-par made the initial cut, so we thanked him after the round because he didn't make the birdie."
"It feels good to start hitting the ball better and it feels good to make the cut," Kokrak said of the weekend. "I played a pretty solid second round to make the cut," he said of a 66 last Friday.
"It was a little struggle there for a while because I wasn't hitting it great, actually pretty poorly — some of the worst golf I've played in a couple years," he said of recent tournaments.
"Everybody goes into a funk, some to into a funk for a couple weeks, some go into it a couple months, some people a couple years. So, I'm thankful to have started hitting it better and make the cut."
Even with reshuffling every five events, which would move him up or down depending on how he plays, Kokrak expects to be in most of the remaining PGA events.
"I should be in 75 to 80 percent of the next couple [events] — depending on a win or something really good that gets me into the PGA playoffs," he said.
Kokrak says his chances of getting in this week's AT&T National in Bethesda, Md., are slim, but he'll definitely be in the Greenbriar Classic in White Sulphur Springs, W.Va., July 5-8.