Woman charged in beating of baby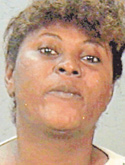 Photo
Judge sets bond at $500K in assault of 6-month old
YOUNGSTOWN
The 51-year-old city woman charged with beating a 6-month-old baby girl left in her care has a checkered criminal history, including imprisonment for involuntary manslaughter.
Brenda Moore, 51 of Cohasset Drive, was arraigned Monday before Judge Robert Douglas of Youngstown Municipal Court. She is in the Mahoning County jail on charges of child endangering and felonious assault.
Judge Douglas set her bond at $500,000.
Kathleen Thompson, an assistant city prosecutor, asked for the high bond.
"We believe Mrs. Moore is a threat to children and to the community," she told the judge.
The child was taken to Akron Children's Hospital in Akron in serious condition. Doctors there said she has a skull fracture and bleeding in her brain.
Immediately after the court hearing, the baby's aunt, grandmother and other family members argued with Moore's daughter outside city hall. The argument almost became physical before court security and police intervened and separated the families.
Moore was charged with murder in 1996 and ultimately pleaded guilty to involuntary manslaughter in that case. Former Judge Maureen A. Cronin of Mahoning County Common Pleas Court ordered her to serve nine years in prison.
Moore also was charged earlier this year with misdemeanor assault. Judge Douglas ordered Moore to serve 30 days of house arrest, pay a $100 fine, serve probation and receive mental counseling.
That sentence was handed down May 24, meaning Moore should have still been serving house arrest when the incident involving the child took place.
Police arrested Moore at her home Saturday after officers received reports that a baby girl was injured while staying in Moore's care.
A family member noticed bruises and swelling on the girl's face, chest and legs after picking her up from the Moore's home Saturday.
Kysonia Tarver, the baby's grandmother, said she and Brenda Moore have been friends for many years. She said the two families have always been on good terms, but that has changed with this situation.
Tarver said her daughter, the child's mother, needed a place to stay and took up residency with Moore about a month ago.
The baby's mother has since been arrested and is in the county jail on unspecified charges, so the baby was left with Moore and Moore's daughter Charmaine Moore.
Charmaine Moore said she had been caring for the child but stepped out for a few minutes leaving the child in the care of her mother Brenda.
"I truly don't believe she did this," Charmaine Moore said. "It is just hard to believe my mother would do something like that."
Brenda Moore told police the girl fell out of bed during her nap and landed on a Community Corrections Association monitor. A witness who arrived at the residence while police were present said Moore beat the child because she was crying, according to a police report.
A baby boy living with Moore was removed from the home.