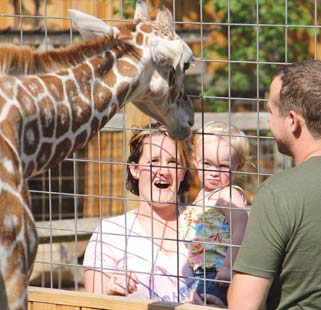 ---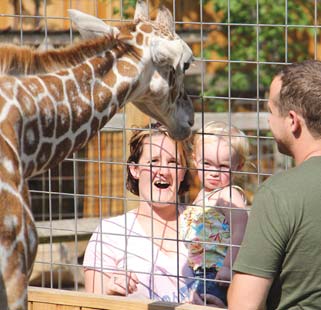 Photo
Levi, a 7-month-old giraffe, and Adam Guiher, owner of Living Treasures Animal Park near New Castle, Pa., greet Heather Livesay of Boardman and her daughter, Ava, 2, at the park.
By jeanne starmack
New Castle, PA.
OK, at 9 feet tall and 400 pounds, he does need some special accommodations, and when he's full-grown, he'll be 18 feet tall and tip the scales at 3,000 pounds.
The human he bunks with planned their house just right though, and Levi, a 7-month-old giraffe, has room to grow.
His temporary water and food buckets are within his reach on the wall of his 24-foot-high room, where he can get out of bad weather yet wander back into his yard whenever he wants.
The permanent food and water dishes await him 9 feet higher up on the wall.
When he's full grown, he'll also be able to visit his roommate, Living Treasures Animal Park owner Adam Guiher, by nosing his long face with the big eyes and the leaf-shaped ears right over the railing of the deck off Guiher's living room, 18 feet above the yard.
Levi has half of a new, 4,000-square-foot building at the park; the other half is Guiher's living quarters, with an office, spare bedroom and kitchen downstairs and the living room and master bedroom upstairs.
Theirs is the only living arrangement of its kind that he knows of, Guiher said Thursday.
Why live with a giraffe? Well, they don't make any noise, Guiher said, except for a few grunts now and then when they get excited. And, they're just interesting animals, he said. From his master bedroom, a wall of windows overlooks Levi's room, where a flattened pile of hay in a corner accommodates the giraffe at bedtime.
In warm weather, Levi does prefer to sleep out in the yard, which is his sole domain, Guiher said.
In last week's sweltering heat, Levi was out in the yard a lot. He ambled slowly down the limestone gravel path that helps to keeps his hooves trimmed to meet visitors on the other side of his fenced enclosure.
He seems to appreciate company, and if his company happens to bring a bag of carrots for him, well, even better.
At the fence, Paul and Kim Rossi of Beaver Falls, Pa., watched as their daughters Brooklyn, 10, and Samantha, 8, fed nubs of carrot to Levi — "The reason we came here was this giraffe," said Paul.
"I think he's awesome," said Samantha.
Brooklyn poured out her feelings. "I love you! I never want to leave," she told Levi.
He is a wild animal, Guiher had stressed earlier.
But Levi, as he bent his neck to slurp carrots from the girls' outstretched hands, didn't appear to realize that.
Having come to Living Treasures from a small zoo in the Adirondacks when he was 3 weeks old after his mother would not let him nurse, Levi's been raised with a strong human imprint, Guiher said. He eats hay and grazes now but still gets a bottle twice a day.
"It's better to have the human imprint for vet work," Guiher pointed out. "If you have an animal that's 18 feet tall and you have to give him shots, you want him to like you."
Not many private zoos have giraffes, and getting one for Living Treasures had always been on his wish list, said Guiher.
He's now working on finding a female for Levi, who in the wild would be living with a herd on grasslands in Africa.
There are 350 animals over a spectrum of 78 species at the park, and many of them are like "immediate family" to Guiher, he said. "But [Levi] especially, because when I wake up, he's the first one I see," he said.
Standing at his fence alone Thursday after some admirers left, Levi watched a couple on a sidewalk not far from his enclosure. They didn't come over. Can a giraffe be disappointed?
Levi kept watching as they walked away. Clearly, he wants company. Just don't forget the carrots.